Cass Freight Index points to ongoing strength in freight economy
October shipments, at 1.224, were up 6.2% annually and down 1.4% compared to September, and October expenditures, at 2.919, were up 12% compared to October 2017 and down 2.4% compared to September.

Logistics in the News
Potential DSV acquisition of Panalpina takes a turn with Agility now in the mix
FTR's Trucking Conditions Index sees significant gain
AAR reports mixed volumes for week ending February 9
XPO Logistics reports strong Q4 and full-year 2018 earnings results
Chapter 11 filing and employee letter shed more light on NEMF's bankruptcy development
More Logistics News
Logistics Resource
8 Methods to Improve Your Forecast Accuracy
In this paper we will take a brief look at eight methods that have produced superior results for Logility's many clients in a variety of industries and market conditions around the world.
All Resources
By
LM Staff
·
November 16, 2018
October freight shipments and expenditures saw decent annual gains and sequential declines, according to the most recent edition of the Cass Freight Index Report issued this week by .
Freight Index to be the most accurate barometer of freight volumes and market conditions, with many analysts noting that the Cass Freight Index sometimes leads the American Trucking Associations (ATA) tonnage index at turning points, which lends to the value of the Cass Freight Index.
October shipments, at 1.224, were up 6.2% annually and down 1.4% compared to September. This marks the 25th consecutive month of growth for shipments.
The report's author, , said that it is clear 2018 will be an extraordinarily strong year for transportation and the economy, noting that shipments from March through October topped all levels for the same period in 2014, which was a solid year.
"Despite all the recent turmoil in the financial markets and the resulting concerns about the strength of the economy, the Cass Freight Shipments Index is clearly signaling that the U.S. economy, at least for now, continues to be extraordinarily strong," explained Broughton. "Simply stated, when shipment volume is up 6.2%, it is the result of an expanding economy. We are hard pressed to imagine a scenario, sans a catastrophic geopolitical event, in which such a strong rate of freight flow expansion was possible or even a precursor to an economic contraction. Our confidence in this outlook is emboldened by the knowledge that, since the end of World War II (the period for which we have reliable data), there has never been an economic contraction without there first being a contraction in freight flows. Conversely, during the same period, there has never been an economic expansion without there first being an expansion in freight flows."
October expenditures, at 2.919, were up 12% compared to October 2017 and down 2.4% compared to September.
On a year-to-date basis, pricing gains in 2018 are coming off similarly strong increases in 2017, with these increases seeing the largest annual percentage increases since the 2009-2010 period, with Broughton saying the current comparisons are not easy ones.
"We have commented repeatedly that this was indicative of an economy that is continuing to expand, wrote Broughton. "October's 12.0% increase signals that capacity is tight, demand is strong, and shippers are willing to pay up for services to get goods picked up and delivered in all modes throughout the transportation industry. The October percentage increase is less than September's 19.3% primarily because this October's increase was on top of an 11.2% increase in 2017, while the September 2017 increase was on top of a less impressive 4.6%. Put another way, the two year stacked increase (2018 vs. 2016) in expenditures was 24.8% in September and 24.6% in October."
November 16, 2018
Subscribe to Logistics Management Magazine!
Subscribe today. It's FREE!
Get timely insider information that you can use to better manage your entire logistics operation.


Latest Whitepaper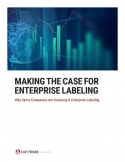 How to Minimize Costs with Enterprise Labeling
The right labeling solution will allow companies to stand up to their everyday challenges and add value.
Download Today!
From the February 2019 Logistics Management Magazine Issue
State of Global Logistics: Time for a reality check
Preview some of the innovations you will see at ProMat 2019
View More From this Issue
Latest Webcast
Freight Tech: Separating Need from Noise
In this webinar experts will share practical advice for selecting solutions that provide quick time-to-value while readying your supply chain for long-term success.
Register Today!