C.H. Robinson announces that Bob Biesterfeld will replace John Wiehoff as CEO in May
The company announced yesterday that as part of a "long-planned succession process", effective May 9, Chief Operating Officer Robert ("Bob") Biesterfeld, will become Chief Executive Officer, as well as being nominated to stand for election to the company's board of directors. Biesterfeld will replace C.H. Robinson Chairman and CEO John Wiehoff, whom will continue as Chairman of the Board when Biesterfeld becomes CEO.

Logistics in the News
U.S. rail carload and intermodal volumes dip for week ending July 6, says AAR
A. Duie Pyle opens up Maine-based integrated logistics center
Truckload and intermodal pricing see gains in June, notes Cass and Broughton
Driver turnover rates head in opposite directions, says ATA
Availability of U.S. industrial & logistics real estate rises after 34 months of declines, says CBRE
More Logistics News
Logistics Resource
Leveraging 3PLs for Future Shipper Gains
Thursday, July 18, 2019 | 2:00PM ET
All Resources
By
Jeff Berman, Group News Editor
·
February 12, 2019
A change at the top is coming soon for Minneapolis, Minn.-based global logistics services provider and freight forwarder . The company announced yesterday that as part of a "long-planned succession process", effective May 9, , will become Chief Executive Officer, as well as being nominated to stand for election to the company's board of directors. Biesterfeld will replace C.H. Robinson Chairman and CEO John Wiehoff, whom will continue as Chairman of the Board when Biesterfeld becomes CEO. C.H. Robinson also announced that Scott Anderson, current C.H. Robinson Board member, will become the Lead Independent Director, also effective May 9.
"Our success at Robinson has always been driven by our people, processes, and technology," Wiehoff said in a statement. "The Board and I are confident Bob is the right person to lead our accelerating investments in each of these areas. During his almost two decades at Robinson, Bob has consistently demonstrated deep industry knowledge, strategic vision, and a passion for delivering results. He has been the driving force behind our digital transformation efforts, accelerating the pace of innovation and technology deployment across our platform. He is an established leader with the right experiences and skills for the next chapter of Robinson."
Biesterfeld will have large shoes to fill, as, under Wiehoff's leadership at C.H. Robinson CEO over the last 17 years, total company revenues have increased more than 500% to $16.6 billion, with annualized total shareholder returns of 13% over the past 17 years.
An accomplished industry veteran, Biesterfeld has been with C.H. Robinson for 20 years. Before being named COO in March 2018, he served as President, North America Surface Transportation and prior to that he served as Vice President, Truckload and Vice President, Robinson Fresh, where he started his logistics career path in 1999. Biesterfeld is a graduate of Winona State University and serves on Board of Winona State University Foundation in addition to the board of the Transportation Intermediaries Association.
Earlier today, Logistics Management/American Truck Media Group News Editor Jeff Berman caught up with Biesterfeld to discuss his new role as CEO and industry trends and themes. A transcript of their conversation follows below.
Logistics Management (LM): What are your expectations and objectives in your pending new role as C.H. Robinson CEO?
Bob Biesterfeld: We have had a senior leader in John Wiehoff, whom has been in the CEO chair for most of the past 20 years or so. As for what looks different on May 9, I think the really good news for our people and organization is that John's tenure as CEO has been nothing short of spectacular. In the industry changes that have occurred over the last 17 years, with competitive and macro forces and the cyclical and secular changes of our history, C.H. Robinson started in a leadership position, at the beginning of John's tenure as CEO, and will end his tenure as CEO in a leadership position as well. Over the last four years or so that I have served as the company's president of North America Surface Transportation or COO, with accountability for the company's five business units and shared services as well, John and I and the rest of the senior leadership team have really been co-developing and co-owning the strategic direction of C.H. Robinson. As John exits in May, there will not be a sharp left or right turn, in terms of our strategic priorities or how we invest our capital or how we show up in the marketplace. There have been a few chapters of the company's history over the last 115 years, and one of the interesting things is that John is not the only long-tenured CEOs. Going back to 1963, prior to me being appointed in this role, we have only had three senior leaders since then. I think it really shows the stability of our company and that we have continued to invest across multiple generations of supply chains, as we established our foundation and determined what we 'want to be when we grow up' so to speak. Our roots began as a produce company, evolving into being more of a full logistics provider in North America post deregulation. We then got into the next chapter of international and global expansion, where we invested heavily into growth overseas in Asia and Europe, as well as the first instances of Navisphere, our technology platform. When thinking about where we sit today, we have this great combination of North America and have spent more than $1.5 billion on M&A and investment into our global forwarding network. It was really about streamlining that investment and bringing it all together.
LM: Where do things go from there?
Biesterfeld: A lot of it has to do with turning the page to a more digital future, where we are very focused on the three core components of people, process, and technology, with technology continuing to be a more important piece of that overall puzzle. That is how I am thinking about it directionally, and our senior leadership team is focused on that strategy.
LM: Staying with technology, given all the attention to logistics technology in the form of things like blockchain, AI, IoT, Cloud, and others, how would you describe the state of supply chain and logistics technology?
Biesterfeld: There is no doubt that the logistics technology space is growing faster than ever, with change never slower than it is today. The way that I think about it is that everyone has algorithms, and, years ago, everybody talked about proprietary technology and now everybody has it in some way, shape, or form. And all the leading companies in the logistics space have their own data scientists and algorithms. There is kind of this level set across technology, and there can only be so many differentiators, with everyone pursuing the same goals. Technology on its own is, really, I don't think, the solution. We think about our investments in technology, and they really support the two other pillars, people and process, and where we think those three things come together, and what separates us in that space…is experience and scale. When we think about that fact that we have had 115 years of experience, we have learned a lot of things along that journey. That experience does not come with just time; it comes across multiple industry verticals, continents, and modes and services. When we aggregate those experiences, the other thing we are aggregating is data, and we have all these data points that we are able to bring together on a global basis across what is viewed as the world's largest supply chain platform. That really starts to become scale, and our IT people that are building programs and cool algorithms have a really big competitive advantage, because we have more data, and we have more data because we have more loads.
LM: How does that data translate into the market?
Biesterfeld: When a small motor carrier comes to us, 15%-to-20% of its miles are driven empty and are non revenue-generating miles. The biggest thing a small motor carrier wants is more miles to get more money, and, chances are, we have a load closer to that carrier than anybody else does. If a shipper comes to us, we can offer them a broader base of capacity than anyone else does and we are more likely able to provide a service for them that is on time and meets their needs. Another thing specifically around technology is that many of the new technology entrants, or tech-enabled brokers, or disruptors, disruptors, are really pushing customers to integrate and operate only on their platform.
LM: What is C.H. Robinson's approach?
Biesterfeld: We want Navisphere to be the easiest supply chain platform to use in the industry. If you would like to operate in Oracle or SAP or whatever your ERP system is as a shipper, or JDA as a carrier, or use your off-the-shelf TMS, we can work with you, rather than pushing customers only on to our systems. We want to meet our customers where and how they want to buy, as opposed to pushing them.
LM: Shifting gears, C.H. Robinson is a very big player in a very competitive and crowded brokerage market. In this environment, what are you trying to do as a company to distance yourselves from the competition, given such a finite carrier base?
Biesterfeld: Looking at the customer lens is where we try to start all of our conversations. We serve such a broad and diverse group of customers, from the smallest micro shipper making something in a garage and doing a residence pick up and shipping a parcel, to the world's largest companies that are fully integrated with Navisphere, like Microsoft, for example, that uses our technology to power their supply chain. We have a whole continuum of customers, from the smallest of the small to the largest of the large, and I think what has been important for our customer go-to market strategy is to ensure that we have aligned our value to the needs of those customers.
LM: Can you provide an example of that?
Biesterfeld: We are not going to go to a small manufacturer and ship once a month and sell them on our data and analytics capabilities or our robust reporting. So, for that small shipper, we will ensure they have the easiest system to access and have access to the best rates for parcel, LTL, and truckload and that they can come online, get a quote, book a shipment, swipe a credit card, and within an hour have someone there picking that shipment up to bring it to the final destination in full. But a Microsoft does not want to deal with using a credit card. They need robust reporting and real-time visibility through things like IoT and sensors and the Cloud, which shows them where their entire inventory is, in motion or at rest, to be able to ensure there are no supply chain disruptions for something like the next launch of an Xbox. We are focused on providing value for a wide variety of segments. If you think about specific verticals like oil and gas, they have very specific needs…so we really work to customize that solution for that sector. It takes smart people and supply chain engineers to do that, and it goes back to having the people, process, and technology to do that.
LM: Looking at the current state of the market, what is different now compared to a year ago?
Biesterfeld: What is different now compared to a year ago is the cycle repeats itself again and again and again. It started with the hurricanes, which drove capacity constraints and things [were crazy], with very few trucks and many loads and that led to an industry reset and everyone re-priced. In our Managed Services business last year, I think our average tender for a truckload shipment was 3.5, meaning that loads went through the routing guide to the third or fourth carrier before it was bid on and this is for the $4 billion worth of freight in our industry. Today, it is now about 1.4, so what happened was that everyone went out to market…and people locked in capacity at higher rates and when that happens the spot market dries up, as it is comprised of unplanned demand. Loads that were supposed to go through the tracking process fall back in and that drives spot market pricing down and resets rates at a higher rate. If you look at public motor carrier earnings, they are talking about mid-to-high single digit rate increases for 2019, which I believe to be an effect of the rate pricing they did in 2018. The rates now are a combination of a mixed shift with contractual freight making up a higher percentage of our portfolio combined with declining annual spot market rates.
LM: How do you view the last-mile logistics and the e-commerce driven supply chain?
Biesterfeld: There is no question that e-commerce and omnichannel fulfillment have changed a lot about the supply chain, in terms of inventory position, order cycles, and other things. Beyond that, the experience we have on our mobile devices that we get used to when we order something online, or the personal experience, is now transferring into our business experience. We now need to know where everything is all of the time. In terms of our position, there are a couple of things that have driven change to our model. One thing is that we are working with a lot of shippers in Asia that want to position inventory through things like Fulfillment by Amazon and other seller networks to move products out of Asia, and that works really well for our ocean and air business. We certainly are not one of the largest providers of the inside the home delivery type of business. The biggest part of our business directly related to e-commerce exists with our managed services business, where we are using Navisphere to provide large global shippers with complete supply chain visibility across everything from ocean freight to parcel shipments. We are touching it in a lot of different ways, and in the last few years or so we are seeing it in the average length of our truckload movements.
LM: How is that?
Biesterfeld: In 2013, the average mileage per truckload was about 780 miles and it is now 620 or so. The impact through the shortening of the length of haul is a function of inventory being placed in different parts of the country. It allows for the order cycle to be shorter and enables us to move things when and where we want it in a different way.
LM: What are some of the key things happening in the ocean market from a C.H. Robinson perspective?
Biesterfeld: When we look at our ocean business as a forwarder, we are a much bigger player there than we are on the air side. Our focus in ocean has been to continue to strengthen our TransPacific eastbound business, as we are the largest NVO in that lane and also into Australia. When we acquired Phoenix International in 2012, we really doubled the size of our overall global forwarding business and somewhat turned the keys over to the Phoenix leadership to continue to build on their model. In the ocean business we are continuing to build out density in our trade lanes and we will continue to look for ways to grow in that space both organically and through acquisition.
LM: What about the air forwarding market?
Biesterfeld: 2018 was a really important year for us in that space as we invested heavily into it. It is a complex market. You cannot just sit on a trade lane; you need to focus on gateways, assets, and people, and it continues to be a strong growth vehicle for us.
February 13, 2019
About the Author
Jeff Berman, Group News Editor Jeff Berman is Group News Editor for
Logistics Management
,
Modern Materials Handling
, and
Supply Chain Management Review
. Jeff works and lives in Cape Elizabeth, Maine, where he covers all aspects of the supply chain, logistics, freight transportation, and materials handling sectors on a daily basis.
Contact Jeff Berman
Subscribe to Logistics Management Magazine!
Subscribe today. It's FREE!
Get timely insider information that you can use to better manage your entire logistics operation.


Latest Whitepaper

Finding the Right Fit for New Technologies and Automation in your Warehouse/DC
In this white paper, Canon Solutions explores the challenges companies face when automating, explain why there's no need to rip-and-replace existing systems
Download Today!
From the July 2019 Logistics Management Magazine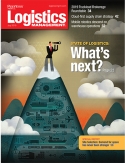 2019 State of Logistics: Third-party logistics (3PL) providers
2019 State of Logistics: Air cargo
View More From this Issue
Latest Webcast
Leveraging 3PLs for Future Shipper Gains
In this webcast, Evan Armstrong, president of Armstrong & Associates offers logistics and supply chain managers the industry's most comprehensive overview of the state of domestic and global third-party logistics arena.
Register Today!