3PL Roundtable: Strengthen the Ties that Bind
In the midst of rapid 3PL market growth, cultural shifts in consumerism and technological disruptions are putting more pressure on the collaborative efforts between logistics managers and their service partners. Our panel sets out to help shippers thrive in the new era of bigger, more dynamic 3PLs.

Logistics in the News
Carrier executives grapple with driver shortage expected to worsen
Panjiva reports gain in July shipments despite trade concerns
July Cass Freight Index Report shows ongoing declines
U.S. rail carload and intermodal units trend down for week ending August 10, says AAR
Create Shipping Efficiencies and Decrease Delivery Costs
More Logistics News
Logistics Resource
Create Shipping Efficiencies and Decrease Delivery Costs
How will your shipping team win during peak season?
All Resources
By
Patrick Burnson, Executive Editor
·
August 31, 2016
According to a new report by Allied Market Research titled "World Third-Party Logistics Market—Opportunities and Forecasts," the global third-party logistics market is expected to reach more than $1 trillion, registering a compound annual growth rate of 5.16%, during the forecast period extending to 2022.
However, analysts observe that sheer revenue size is not all that matters here. For shippers seeking a way to make the most of this rolling storm, they will need to evaluate a growing list of integrated services, IT enhancements and value-added solutions. In an effort to help shippers improve the management of their third-party logistics provider (3PL) relationships in the midst of this growth trend, we've convened a panel of industry experts to share their impressions of the current environment.
Joining us in this roundtable discussion we have Art van Bodegraven, managing principal of the supply chain consulting firm van Bodegraven Associates; Cathy Morrow Roberson, president of research firm Logistics Trends and Insights LLC; and John Langley Jr., Ph.D., who serves as a director of development at the Center for Supply Chain Research at the Smeal College of Business at Pennsylvania State University.
Logistics Management: As the 3PL arena becomes ever more dynamic, how will shippers seek more value in the relationship?
John Langley: That's a complicated question, but I would say that 3PLs create value by providing basic as well as innovative services. As potential customers become better at understanding their own supply chain core competencies, they should expect 3PLs to customize their offerings.
Cathy Roberson: That's so true, and it's important to remember that 3PLs create more value by being more than just a vendor. Shippers should expect them to become a real partner. It's not unrealistic to expect 3PLs to focus on their strengths and also provide value-added services such as light assembly manufacturing, vendor-managed inventory, and to identify efficiencies across the supply chain.
Art van Bodegraven: Agreed. Shippers have every right to demand that 3PLs arrange scope and scale, functional capability extensions, global operations as well as relationships. This means that there should be integration of assets like distribution, transportation, order selection and processing. At the same time, shippers should expect visibility, tracking capability, and process design.
LM: That sounds a bit like what Amazon is trying to achieve in this marketplace. How seriously should we take them now? Are there now lower barriers of entry?
Langley: Amazon is changing the 3PL landscape in at least a couple of significant ways. First, as a 3PL customer, Amazon has asked its external providers of supply chain services for a needed mix of operations- and solutions-based services. Second, considering the extraordinary range of resources available at Amazon, they also need to be recognized as a very viable potential provider of commercial logistics services.
Considering some of Amazon's unique, solutions-based supply chain needs, there is a range of strategic decisions that they may contemplate in the future. Considering the results of our current research into the use of 3PL services, the range of capabilities that are necessary to have is increasing significantly. Thus, the barriers to entry are increasing rather than diminishing.
van Bodegraven: John is right on. In general, barriers to successful entry in the 3PL space will continue to grow higher. Gone are the days when two guys and a truck could throw open their doors and prosper. And keep in mind that the industry will continue to suffer in the transition away from the heritage of small family businesses as a march to consolidation continues.
Roberson: It's critical for shippers to keep in mind that it still requires a substantial investment to build out a network that can rival a FedEx or UPS. Automating existing warehouses and other facilities is costly. For the many 3PL startups that have appeared in recent years, few of them are profitable and most are still dependent on venture capital funding.
Shipper checklist for a new era of 3PL relationships
As noted in our roundtable discussion, cultural shifts in consumerism along with technological disruption may be exerting new pressures on the collaborative efforts shared by logistics managers and their third-party logistics providers.

Here are some recommendations made by our panelists during our discussion:
When vetting a 3PL, shippers should give candidates all the relevant data they have. This means full disclosure regarding problems, challenges, failures and past events.
Have a thoughtful preliminary business case for what functions and services you wish to outsource.
Hold candid discussions about values, philosophies, approaches and objectives to assess compatibility.
Recognize that the 3PL requires a fair profit margin to remain a healthy business and reliable partner.
Press for all analyses to quantify (estimating when necessary) continuing value, rather than transient costs.
Create and maintain working/planning relationships at all levels (including CEO) in your organization and that of the 3PL.
Establish dispute resolution mechanisms at the beginning, before there are problems.
Even though the object is a mutually beneficial long-term relationship, stay abreast of any industry news and overall 3PL developments.
Make the service provider part of the risk management solution, but don't play one provider against another as a ploy to squeeze margins and cut costs.
-Patrick Burnson, executive editor
LM: Can you be more specific? What kind of value-added enhancements are essential?
Roberson: Real-time visibility is one example. Shippers are insisting that they're connected to all of their suppliers well beyond the Tier 1 level. This is vital from a risk perspective. In addition, being able to intercept or make a change while in the transport process is important.
This is particularly true for temperature-controlled items. Here, shippers need the ability to adjust temperatures to meet regulatory compliance. Collaboration across the chain for efficiency as well as developing new solutions is important in an environment that is changing at a much faster pace.
Langley: Based on our research, the availability of capable IT-based services already has become a key differentiating factor for commercial providers of 3PL services. Among those that are growing in popularity are supply chain visibility; execution-based capabilities; meaningful use of descriptive, predictive, and prescriptive analytics; and integration technologies.
van Bodegraven: And let's not forget the orderly integration of Internet-of-Things (IoT) capabilities into decision mechanisms and execution systems. With the change in consumer patterns, 3PLs will be expected to deliver simplified first-level Big Data analytics to isolate areas for further analysis
LM: What trends point in this direction? Anything you can point to as a major cultural phenomenon?
van Bodegraven: To put it simply, there are pockets of behavior that may contain clues for the future in terms of how services will be delivered. Trends related to alternative energy sources and greenhouse gas emission reduction, for example. This represents a substantial generational shift, and 3PLs will need to continue to adjust.
Roberson: That's true. Millennials are redefining shopping preferences as well. Retailers and their 3PL partners are responding to this group by improving the experience in shopping—easier return policies, encouraging returns and pick-up of online orders in-store, and seamlessly linking the physical store to the mobile store to the online store to the catalog to the warehouse and to the last mile.
"To no one's surprise, Amazon will figure
prominently, one way or another. They continue
to double down on facilities, availability, partner
suppliers, and delivery commitments."
— Art van Bodegraven, van Bodegraven Associates
Langley: It will be interesting to observe how all of this evolves, as clearly there are examples of consumerism to which the 3PL sector is busy responding. The current emphasis on omni-channel capabilities, for example, is in response to customer and consumer needs for more imaginative solutions. As this pattern continues, we will see growth in the use of effective and innovative social media capabilities to facilitate the planning and functioning of supply chains.
LM: And this evolutionary pattern will give e-commerce even more traction in the 3PL space?
Langley: Most likely, the coming year will show increases in the diffusion of e-commerce services. This is a very interesting area, and one that will continue to develop and evolve. Even though there are is a wide range of significant players who are involved in e-commerce, we continue to search for effective operational and strategic approaches to facilitate the needs of e-commerce.
van Bodegraven: To no one's surprise, Amazon will figure prominently, one way or another. They continue to double down on facilities, availability, partner suppliers, and delivery commitments.
Roberson: Keep in mind that most of the focus has been on B2C, but we're now seeing the growth of B2B, which is a much bigger opportunity. Eventually B2C and B2B e-commerce will blur to the point where there will no longer be a distinction between the two business models.
LM: So, how should shippers work with 3PLs in this B2B business? Any advice?
Roberson: Expectations by logistics managers conducting B2B transactions are similar to the way they conduct personal transactions when ordering books, music and apparel online. They should expect the same look, feel and ease of use. Amazon is moving more into this space as well. It noted in its recent earnings report that its Amazon Business serves more than 400,000 businesses and generated more than $1 billion in sales in its first year.
LM: Any other trends our readers should be tracking in regards to better optimizing their 3PL relationships?
Langely: There are good arguments for the growth of near-shoring, as well as the alternative of cross-border trade. Another major factor regarding this topic will be the extent to which logistics and supply chain managers ramp up their abilities to understand and utilize the principles relating to total landed cost. Use of this approach will help to make more rational sourcing, manufacturing and marketing decisions. Then the next bridge to cross will be what future directions will become evident in terms of the forces impacting our supply chains.
Roberson: I would add that global trade is slowing down and 3PLs are investing more in intra-regional transport and storage as a result. This intra-regional service is fueling cross-border trade. In the meantime, Europe and Asia present the largest intra-regional opportunities for 3PLs.
September 1, 2016
About the Author
Patrick Burnson, Executive Editor Patrick Burnson is executive editor for
Logistics Management
and
Supply Chain Management Review
magazines and web sites. Patrick is a widely-published writer and editor who has spent most of his career covering international trade, global logistics, and supply chain management. He lives and works in San Francisco, providing readers with a Pacific Rim perspective on industry trends and forecasts. You can reach him directly at
Subscribe to Logistics Management Magazine!
Subscribe today. It's FREE!
Get timely insider information that you can use to better manage your entire logistics operation.
Start your FREE subscription today!
Latest Whitepaper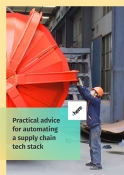 Practical advice for integrating new technology
As one of the world's leading location platforms, HERE shares insights and tips to streamline the supply chain technology integration across the whole organization.
Download Today!
From the August 2019 Logistics Management Magazine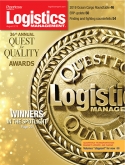 Ocean: Protecting margins in a soft market
Warehouse Voice Technology Speaks for Itself
View More From this Issue