2019 Trade Update: Compliance issues in focus
Shippers who are current on the global trade landscape are assets to their service partners and clients. Our global trade expert provides us with a review of three key trade topics that should be top of mind as we enter 2019.

Logistics in the News
Carrier executives grapple with driver shortage expected to worsen
Panjiva reports gain in July shipments despite trade concerns
July Cass Freight Index Report shows ongoing declines
U.S. rail carload and intermodal units trend down for week ending August 10, says AAR
Create Shipping Efficiencies and Decrease Delivery Costs
More Logistics News
Logistics Resource
Create Shipping Efficiencies and Decrease Delivery Costs
How will your shipping team win during peak season?
All Resources
By
Gabrielle Griffith, Director, BPE Global
·
January 8, 2019
As trade compliance professionals, we joke that our family members now finally understand what we do for a living. In fact, 2018 has been the year that anybody with access to a news platform has become well acquainted with the concepts of global trade compliance.
Both shippers and logistics service providers are certainly on the frontlines of executing the trade compliance changes lighting up the current global trade landscape—and it has become impossible to miss the impact of these global trade dynamics. Domestic shippers can't find affordable sources for the materials that they need to build their products, and companies whose products were once duty free now have duties to reconcile into their forecast.
Without a doubt, there's a micro-focus on global trade compliance in a way that even the most diligent companies could not have predicted. There's now heavy accountability for shippers, as so many importers and exporters rely on freight forwarders and Customs brokers to make their export and import declarations.
With that in mind, it's now imperative that shippers are current with recent trade compliance regulations and can manage client expectations with strategic recommendations. Over the next few pages, we'll provide shippers with a review of key trade compliance topics that should be top of mind entering the new year as well as some practical advice on how to prepare and manage these areas in 2019.
1. Tariffs
Many will remember 2018 as the year of tariffs. The Section 201 safeguard tariffs assessed tariff quotas on imported solar panel components (starting at 30%) and residential washing machines (starting at 20%) from any country.
The Section 232 national security tariffs were assessed on specified imports of steel (25%) and aluminum (10%). The Section 301 unfair trade practice tariff applied 10% to 25% tariffs on thousands of individual goods of Chinese origin with a still-developing possibility of raising tariff rates higher and expanding the product list wider as 2018 draws to a close.
Both shippers and logistics service providers can build a strategic approach toward the Section tariffs in the new year. First and foremost, we recommend that shippers work with clients to thoroughly review the classification of items subject to the tariffs, and that clients affected by tariffs conduct thorough classification analysis. Keep in mind that legacy classifications in systems may be outdated or completely incorrect.
---
"Now is the time to strengthen relationships with your clients and all those involved in your supply chain across the globe."
---
It's also imperative to review contracts and costs of your supply chains, as domestic shippers may have the cost of tariffs passed via suppliers without being made aware. Keep in mind that international shippers should review Deliver Duty Paid (DDP) contracts to plan for possible tariff impacts in 2019. Here are a few fundamentals to keep in mind.
Logistics service providers and shippers need to ensure that customers have the correct Customs bond in place. Section tariffs are resulting in duties levied on companies that had duty-free product to date. In the past, these companies had nominal bond amounts because of the lack of duty exposure. Now, Customs is issuing Insufficient Bond Notices to importers who are affected by these tariffs. Customs is terminating insufficient bonds and is demanding that companies replace their insufficient bonds with new bonds with the correct values. This is a major issue for companies that may not be able to afford the higher bonds or get the collateral to secure the bond. Remember, you can't import without a Customs bond.
It's also important to thoroughly evaluate a shifting of production for country of origin qualification purposes. Customs issued several rulings toward the end of 2018 showing their approach toward qualifying manufacturing and assembly. Goods deemed to be unchanged in name, character and use were not found to have qualified for substantial transformation for Country of Origin, Section 301 purposes.
Finally, help clients run reports of their data. We suggest that you run reports with your systems or ACE to help clients understand and prepare for the continuation of the Section tariffs. Focus on the trade compliance changes that affect your company's and your clients' supply chains based on the products and the countries where operations occur. Ignore the static created by topics that don't make an impact on your operations.
2. United States-Mexico-Canada Agreement (USMCA)
The USMCA is the re-negotiated NAFTA agreement between the United States, Mexico and Canada and is unofficially referred to as NAFTA 2.0. It is an updated version of the nearly 25-year old trade agreement that has been signed, but not yet ratified.
The USMCA gives the United States more access to Canada's dairy market, incentivizes more domestic production of cars and trucks, increases labor and environmental standards, and introduces updated intellectual property protections.
The USMCA was signed at November's G20 summit and changed country of origin rules for automakers as well as de minimis levels. Country of origin rules were changed to mandate that 75% of components manufactured in Mexico, the United States or Canada are required to qualify for zero tariffs (up from 62.5% under NAFTA).
The de minimis level, the amount of a "good" a person can take across the border without being hit with duties, was increased in Canada. For shipments from the United States, the de minimis is now 40 Canadian dollars from 20 Canadian dollars; for cross-border shipments like e-commerce, the level will be boosted to 150 Canadian dollars. Mexico de minimis was also increased to 50 U.S. dollars.
The USMCA still needs to be ratified by the governments of the United States, Mexico and Canada, something that should occur in 2019. In the meantime, notify e-commerce and automotive clients of the USMCA changes. Part of USMCA was a side agreement surrounding the Section 232 tariffs on steel and aluminum, so it's important to review client invoices and other documentation to ensure clarity for accurate customs declaration. Offer clients visibility to their existing NAFTA volumes and areas of impact via systemic data.
3. Brexit
In June 2016, the United Kingdom voted to leave the European Union in what is being called "Brexit"—a nickname referring to "British exit." In March 2017, U.K. Prime Minister Theresa May submitted the Article 50 withdrawal notification to the EU, giving the U.K. and EU until March 29, 2019, to negotiate an agreement.
On November 14, 2018, Prime Minister May's cabinet approved the plan in a 585 page Draft Withdrawal Agreement, followed by three members of her cabinet resigning on November 15, 2018, in opposition of the deal. At the EU Summit on November 25, the deal received the backing of the leaders from the 27 other countries in the EU, and the Brexit Agreement is currently pending a vote by the U.K. Parliament.
If approved, the U.K. will be on track to leave the EU on March 29th, 2019, with the transition period to last until December 2020. As the deal has been contentious within the U.K. government, there's certainly no guarantee of the outcome. Organizations should have contingency plans for both a "deal" and "no deal" Brexit outcome.
In preparing for either of these scenarios, it will be important for the trade compliance groups within organizations to look at dual use items from the U.K. to the EU and assess for possible license requirements. It will also be helpful to have product teams validate products for compliance with EU safety legislation. We recommend that organizations work with their tax and finance departments to discuss whether there are VAT or Economic Operators Registration and Identification (EORI) number registration requirements for both scenarios.
Additional recommendations would be to have clients review intra-EU contracts to reflect "importer/exporter" language as well as validate INCOterms. Remind clients to work with human resources for assessment of possible visa requirements for EU employees working in the U.K. and U.K. employees working in the EU.
Finally, work with IT to assess if any servers in the U.K. store any EU data that now may need to be moved to comply with General Data Protection Regulation (GDPR) and help clients define their data using reports for the volumes that may be affected.
Call to action
The symbiotic relationship between trade compliance and supply chain is the cornerstone of a shipper's competitive advantage. Service providers and shippers who are current on the global trade landscape are assets to their partners and clients.
The common thread when planning for 2019 is to leverage existing data for building an effective strategy. One of a company's most important responsibilities is to accurately and quickly assess the fiscal impact of both internal and external trade changes.
Internally, shippers need to stay informed of trade compliance changes to retain their competitive advantage. Externally, shippers have an invaluable opportunity to offer clients data to empower strategic planning for future trade compliance challenges.
Now is the time to strengthen relationships with your clients and all those involved in your supply chain across the globe. With a thorough understanding of the regulatory landscape along with real-time data, companies can plan and react strategically and swiftly to the challenges 2019 will most certainly bring.
January 8, 2019
Subscribe to Logistics Management Magazine!
Subscribe today. It's FREE!
Get timely insider information that you can use to better manage your entire logistics operation.
Start your FREE subscription today!
Latest Whitepaper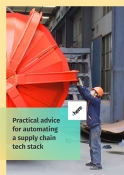 Practical advice for integrating new technology
As one of the world's leading location platforms, HERE shares insights and tips to streamline the supply chain technology integration across the whole organization.
Download Today!
From the August 2019 Logistics Management Magazine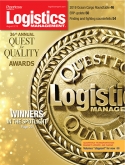 Ocean: Protecting margins in a soft market
Warehouse Voice Technology Speaks for Itself
View More From this Issue