2018 Software User Survey: We need more technology, please
A look at how software is playing an increasingly important role in the smooth running of the world's end-to-end logistics operations.

Technology in the News
Supply Chain Management in the Cloud
Supply Chain's Cloud-first Strategy
Making the Case for Using a Transportation Management System for Parcel Shipping
XPO cites steady adoption of Drive XPO carrier app
Kenco Logistics plans to open up dedicated physical warehouse space focused on innovation
More Technology News
Technology Resource
Supply Chain Management in the Cloud
Download this whitepaper to understand the unique risks associated with Supply Chain Management with the cloud.
All Resources
By
Bridget McCrea, Editor
·
July 11, 2018
As the world's supply chains become longer, more intertwined and increasingly complex, the need for software systems that can support warehouse and distribution center operations and provide end-to-end visibility continues to expand.
Whether it's analyzing labor hours in the warehouse, tracking the movement of vehicles in and out of the yard, or monitoring tractor-trailers as they make their way across the country, software is playing an increasingly important role in the smooth running of modern-day logistics operations.
And, if Modern Materials Handling's "2018 Warehousing & Distribution Center Software Usage Study" is any indicator, software's role in that operation is growing year-over-year. In fact, across most software categories, the survey showed higher adoption rates and/or more companies showing "interest" than they did in 2017.
In this year's survey of Modern subscribers, respondents shared their views of current software usage, returns on investment and key goals related to their software purchases.
Of the 131 readers who participated in the study, 33% are corporate/divisional managers, 18% are vice presidents/general managers, and 11% are warehouse managers/supervisors.
Twenty-four percent work for companies with less than $10 million in sales and 20% are with firms with either $10 million to $49.9 million or $50 million to $99.9 million in annual sales. The bulk of respondents (35%) work for manufacturing firms, while 11% are with wholesalers, and another 10% with either third-party logistics (3PL) companies or consulting firms.
Shelling it out
When asked about their company's adoption of technology for materials handling procedures, most respondents (47%) said they cautiously embrace change. Only 4% considered themselves innovators and 23% claimed to be early adopters. On the other end of the spectrum, 13% are taking a "wait-and-see" approach and another 13% were the last to adopt any new technologies.
Thanks to the current economic climate, the majority of respondents (40%) said their company's approach to adopting materials handling management software was "scrutinizing software investments and moving forward cautiously." Twenty-two percent plan to upgrade existing software instead of buying new software packages this year, while 16% are moving forward with new software investments in 2018. Another 12% plan to hold off on software investments for now.
In most cases (62%), software purchases are handled by an in-house staff member, while other options include a software supplier (37%), a systems integrator (30%) or a business management consulting firm (13%).
This year, companies plan to spend (including license, integration and training) less than $100,000 on software (47% of respondents said this); $100,000 to $499,999 (23%); or $500,000 to $999,999 (15%). Another 12% of companies are planning to spend $1 million to $1.9 million, while 3% will allocate $2 million or more.
On average, readers will spend $473,770 on supply chain software, a decrease from last year's $504,630. The median spend in 2018 will be $128,570, which represents an increase over 2017's median spend of $91,010.
What's everyone using?
When asked which software applications are currently in use in their warehousing and distribution environments, the highest percentage of readers (68%) are using a warehouse management system (WMS)—a number that's grown from 56% in 2017. This comes as little surprise in a business environment where warehouses and DCs are being pushed to do more with less in today's fast-paced, e-commerce/omni-channel fulfillment environment.
Right now, 38% of readers are using transportation management systems (TMS), 32% rely on workforce management solutions, and 25% use warehouse execution systems (WES). The survey picked up on a decrease in the use of asset tracking software (from 28% in 2017 to 24% in 2018), and utilization of supply chain management and planning solutions also saw a significant decrease (from 28% last year to 15% in 2018). Use of slotting systems and yard management systems (YMS) remained steady at 12% and 10%, respectively.
More WMS, please
Over the next 24 months, 41% of readers plan to evaluate, purchase or upgrade their WMS while 25% want to do the same with their TMS (compared to only 16% last year). Across most software solutions, more respondents plan to evaluate, purchase or upgrade this year versus 2017—yet another indicator of the steep challenges that they're facing in the fast-paced, labor-strapped fulfillment environment.
When purchasing or upgrading their WMS, readers are looking for real-time control (43%), upgrades of existing packages (36%), inventory deployment (36%), and labor management (26%). Most companies (34%) have had their WMS in place for less than five years, while 14% are still using solutions that were put in place more than 15 years ago. The latter are clearly ripe for an upgrade to newer, state-of-the-art warehouse management solutions.
Asked how long it took to realize a return on their WMS investment, 33% of readers say they either haven't yet—or, they don't know the answer to that question. Twenty-three percent said it took 12 to 18 months to realize a return, and 20% said 18 months.
Improving transportation management
As the "other" workhorse of the supply chain, TMS continues to play an important role in transportation networks worldwide. According to our survey, 70% of companies have had their TMS in place for less than 10 years while 10% have been using their current systems for more than 15 years.
Twenty-four percent upgraded their TMS less than a year ago, while 35% say they did it less than five years ago. Another 14% of readers haven't upgraded their TMS at all. Most respondents (38%) said they haven't realized the return on their TMS investment or don't know whether they did, while 21% say it took 12 to 18 months to realize the return (another 21% said 6 to 12 months).
Managing labor effectively
With a national labor shortage in full swing, more companies are looking for better, faster and smarter ways to manage employees and improve productivity. Some are finding the solution in labor management systems (LMS), which are currently being used by 32% of readers. The majority (45%) said they have had their LMS in place for one to less than five years, while 20% have been using their labor management solutions for the last five to 10 years.
In most cases, companies implementing LMS are looking for improved labor productivity (60%), better control over labor costs (60%), improved workforce planning and scheduling (45%), and automation of currently manual labor management processes (45%). Asked how long it took to recoup their LMS investments, 30% said it took more than 18 months and 15% said either 6 to 12 or 12 to 18 months.
When it comes to evaluating and/or implementing engineered labor standards, 53% of respondents said they are currently using labor standards, and 21% plan to implement them in the future.
However, 26% have no current plans on implementing the standards. Sixty-five percent of readers surveyed have either already adopted or are planning to adopt an employee payment program tied to productivity improvements, while 35% have no plans to take this route.
Into the clouds
It's no secret that computer software as a whole has largely moved into the Cloud, and supply chain solutions are no different. Following in the footsteps of TMS and global trade management (GTM) software—both of which are largely known as two of Cloud computing's earliest adopters—nearly all solutions are being served up in the Cloud.
Right now, 39% of companies are running Cloud-based applications and 31% are currently evaluating them (or planning to in the next two years). Eighteen percent of readers said they're unsure whether their companies are interested in the Cloud, and 12% said it's just not a good option for their operations.
Based on this year's survey, 48% of respondents are using or planning to evaluate Cloud-based applications for WMS, TMS, LMS, slotting, order management or planning. Thirty-eight percent want to use the Cloud to monitor systems, manage information and predict system failures for automated warehouse equipment. Finally, 28% are using or planning to evaluate Cloud-based applications to manage or collect data on their lift truck fleets.
In assessing the most important benefits of using Cloud computing, the most popular responses were: easy to implement, deploy, or upgrade apps (44%); cost effectiveness (37%); the fact that everyone has access to the same data (35%); and improved visibility (26%). Other benefits included access to analytical data; collaboration with suppliers and customers; and the ability to run e-commerce applications.
What's ahead?
As machine learning, artificial intelligence (AI), Big Data, and the Internet of Things (IoT) continue to make their way into the manufacturing and distribution environments, a growing number of companies are turning to these advanced technologies to run their supply chains. There's plenty of room to grow in this area, and the early adopters are already experimenting.
When asked about their use of AI, only 8% of respondents say they are now using the technology, but 14% are considering it and another 13% will consider using AI in next two years. Eight percent of readers said they don't know enough about AI and need more information, while 44% said their companies have no current plans to implement this technology.
For now, 11% of respondents said they are now using Big Data in their operations, but 24% are either considering it now or plan to in the next two years. Thirty-six percent of respondents said their companies have no current plans in place regarding the use Big Data.
As technology continues to proliferate and play a larger role in the world's supply chains, and as more existing systems become obsolete and in need of upgrades, related software investments should remain steady. After all, you can't run a competitive, end-to-end supply chain in today's fast-paced fulfillment environment without the right combination of software-supported visibility, accuracy and accountability.
July 11, 2018
About the Author
Bridget McCrea, Editor Bridget McCrea is a Contributing Editor for Logistics Management based in Clearwater, Fla. She has covered the transportation and supply chain space since 1996 and has covered all aspects of the industry for Logistics Management and Supply Chain Management Review. She can be reached at
, or on Twitter
Subscribe to Logistics Management Magazine!
Subscribe today. It's FREE!
Get timely insider information that you can use to better manage your entire logistics operation.


Latest Whitepaper

Finding the Right Fit for New Technologies and Automation in your Warehouse/DC
In this white paper, Canon Solutions explores the challenges companies face when automating, explain why there's no need to rip-and-replace existing systems
Download Today!
From the July 2019 Logistics Management Magazine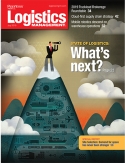 2019 State of Logistics: Third-party logistics (3PL) providers
2019 State of Logistics: Air cargo
View More From this Issue
Latest Webcast
Leveraging 3PLs for Future Shipper Gains
In this webcast, Evan Armstrong, president of Armstrong & Associates offers logistics and supply chain managers the industry's most comprehensive overview of the state of domestic and global third-party logistics arena.
Register Today!