2017 NASSTRAC Shipper of the Year: Mallinckrodt; Mastering and managing complexity
An inside look at how a large pharmaceutical firm transformed its vendor and supplier relationships into true, collaborative partnerships—and greatly strengthened its logistics and supply chain operations in the process.

Transportation in the News
Logisticians, carriers fret over U.S. economy's future
U.S.-bound shipments trend down in June, reports Panjiva
U.S. rail carload and intermodal volumes dip for week ending July 6, says AAR
A. Duie Pyle opens up Maine-based integrated logistics center
Truckload and intermodal pricing see gains in June, notes Cass and Broughton
More Transportation News
Transportation Resource
5 Levels of Autonomous Dispatch and Routing
Download this paper for an overview of Autonomous Dispatch and Routing, and learn how increasing levels of automation support and scale dispatching capabilities and create additional business opportunities.
All Resources
By
Bridget McCrea, Editor
·
November 1, 2017
Tasked with making pharmaceutical discoveries that help humans live longer, more enjoyable lives, the companies that engage in the drug research that shapes improvements in healthcare make up what is one of the world's most important markets. In the United States, where people spend $450 billion annually on medicine, these products have an "enormous positive influence on global health, prosperity, and economic productivity by saving lives, increasing life spans, reducing suffering, preventing surgeries, and shortening hospital stays," according to the .
An inside look at how a large pharmaceutical firm transformed its vendor and supplier relationships into true, collaborative partnerships—and greatly strengthened its logistics and supply chain operations in the process.
With a particular focus on therapies for patients with difficult-to-treat autoimmune and inflammatory disorders, a hospital portfolio of products and drug-device systems, and a portfolio of specialty, generic-controlled substances, has been helping to improve lives and treat a wide variety of conditions for the last 150 years. Founded in St. Louis and focused on producing high-quality, specialty pharmaceuticals, the company's mission is both straightforward and poignant: "Managing Complexity. Improving Lives."
Mallinckrodt's philosophy carries over to the management of its worldwide supply chain, where in 2016 the company kicked off an effort to transform its logistics vendor and supplier relationships—those related to distribution, transportation and warehousing—into true collaborative partnerships, as well as strengthen its supply chain and carrier partnerships.
Here's how Mallinckrodt pulled off this unique, collaborative solution to become the , an award given annually by the association and Logistics Management to a logistics organization that has transformed operations through the implementation of fearless, innovative thinking.
Executing transformational initiatives
Mallinckrodt's core strengths include the acquisition and management of highly-regulated raw materials and specialized chemistry, formulation and manufacturing capabilities. Its specialty brands segment includes branded medicines, and its specialty generics segment produces specialty generic drugs, active pharmaceutical ingredients and external manufacturing.
"Our strong ability to master and manage complexity is the key component in making high-quality products that provide value for patients," says , senior category manager, procurement-logistics.
Mallinckrodt's SRM evolution
The company's overall vision included replacing a focus on compliance with a focus on engagement with the business. It also wanted to replace its existing focus on "gate-keeping" with one centered on facilitating interactions between end-users and suppliers.
Here's a snapshot of the company's before-and-after supplier relationship management process:
BEFORE:
Traditional Procurement and Supply Chain Management
Leverage over suppliers
Focus on internal stakeholder
compliance
Analytical skills
Primary value is cost reduction/
management
Manage transactions
Secure supply
Own and execute
AFTER:
New Procurement and Supply Chain Management Paradigm
Engagement with suppliers
Trusted advisor to internal business partners
Soft skills
Primary value is competitive advantage
Manage relationships
Solve business problems
Facilitate and enable
In 2013, Mallinckrodt became a public company, and has since been executing transformational initiatives to become a leading specialty pharmaceutical company, according to Tudtud. One of the areas of transformation was procurement, a department where supplier relationship management (SRM) plays an important role in managing an enterprise's interactions with the organizations that provide the goods and services it uses.
Knowing this, Mallinckrodt decided to up its SRM game by streamlining and improving the processes between its enterprise and its suppliers, similar to how a customer relationship management (CRM) system is intended to streamline the customer experience and interactions. "Without effective supplier relationship management," says Tudtud, "procurement organizations are missing a tremendous opportunity to capture expected sourcing savings, as well as extract additional savings from suppliers."
When it was spun off from Covidien four years ago, Mallinckrodt became an independent company, with $2.2 billion in net sales, that developed, manufactured, marketed and distributed specialty pharmaceutical products and diagnostic imaging agents. Since that time, Mallinckrodt has been engaged in various acquisitions and divestitures as part of its strategy. Today, Mallinckrodt is a publicly-traded company with net sales of $3.4 billion in the company's fiscal 2016 year.
From a logistics and supply chain perspective, the manufacturer had retained many of Covidien's contracts and suppliers, and was engaged in transactional relationships with many suppliers and vendors. In 2016, Mallinckrodt began an effort to transform its vendor and supplier relationships into true collaborative partnerships, as well as strengthen its supply chain and carrier partnerships.
For Mallinckrodt, improving SRM meant segmenting suppliers into tiers in order to reduce time managing for performance and rededicate resources to manage for value. It also wanted to use standardized scorecards and supplier feedback programs. The latter would help the firm more efficiently track and evaluate carrier performance with an eye toward improving the entire portfolio.
"We know that the best companies work to understand how their suppliers view them," Tudtud says, "and how they can make it easier and more compelling for suppliers to contribute high-quality innovations that are relevant to top business objectives." Tudtud says the company also wanted to be able to collaborate with key suppliers by focusing only on a few projects that both Mallinckrodt and its suppliers considered "urgent" and relevant to overall business strategy.
Finally, it wanted to be able to reduce supplier risk and price volatility by targeting resources against suppliers that can "add the most value and design effective governance models across the supply base," Tudtud says.
Earlier this year, Mallinckrodt's procurement team launched an SRM program designed to strengthen partnerships with key suppliers. Through this process, the company wanted to attain efficiencies, mitigate risk, enhance compliance and manage costs. The SRM program lets Mallinckrodt and its key suppliers define and identify opportunities for improvement and measure results.
Building lasting relationships
Through its SRM, the pharmaceutical manufacturer has also been able to eke more efficiencies out of its transportation component. "For the first time since separating from Covidien, we've completed comprehensive transportation bids to consolidate the transportation activity of the companies we acquired," Tudtud adds, "with our existing businesses, and leveraged our overall transportation volume."
Tudtud says Mallinckrodt also changed the way it worked with freight payment providers. "In an effort to improve settlement activities with carriers and reduce manual efforts internally," he explains, "we finally consolidated all global activity under one provider. This has allowed us to gain visibility to transportation costs at a global level to make more informed decisions and improve carrier relationships."
While many procurement groups focus on securing a product or service for the least cost, Mallinckrodt understands that the "least-cost provider" in one area can increase costs in other areas. To leverage this reality, the company is now emphasizing the larger picture overall when making vendor decisions, according to Tudtud.
"Our SRM program also recognizes the importance of some smaller vendors to the larger organization and has a defined the collaboration process to ensure success for both organizations," he notes, "as well as providing some security for those smaller vendors to continue investing in the partnership."
Overall, Tudtud says these efforts have helped Mallinckrodt transform its organizational procurement into one that's focused on "building lasting partnerships instead of transactional relationships."
Leveraging efficiencies
As companies of all sizes and across all industries work to form stronger, longer-lasting bonds with their carriers and suppliers, companies like Mallinckrodt are already seeing positive results from their efforts in these areas.
"Most carriers and vendors want to work collaboratively with their clients, but those types of partnerships require engagement from both companies to be successful," says Tudtud. "We're now more engaged with our carriers and vendors, and we've committed significant time and resources towards meeting with them on a regular basis, even more so for vendors engaged in the SRM program."
And while many companies promote their commitment to "strategic partnerships" then treat their vendors like transactional providers, Mallinckrodt has backed up its efforts in this area with real actions. Additionally, when looking for outside help for projects and initiatives, the firm now looks to its existing providers first.
"Since our current providers are familiar with our business they can often leverage efficiencies of combining existing services with new projects," says Tudtud. "Our overall costs are reduced. Finally, we've been able to consolidate our carrier base in certain modes and expand it in others to ensure better service and allow for better rates."
According to Tudtud, Mallinckrodt's "next wave" of savings will come more from innovation versus just applying competitive pressure. "Sourcing and supply management teams need to think like businesspeople, not buyers," he points out. "And while cost (almost) always matters, it is rarely the only thing that matters."
November 20, 2017
About the Author
Bridget McCrea, Editor Bridget McCrea is a Contributing Editor for Logistics Management based in Clearwater, Fla. She has covered the transportation and supply chain space since 1996 and has covered all aspects of the industry for Logistics Management and Supply Chain Management Review. She can be reached at
, or on Twitter
Subscribe to Logistics Management Magazine!
Subscribe today. It's FREE!
Get timely insider information that you can use to better manage your entire logistics operation.


Latest Whitepaper
Rules of Origin Really Do Rule
Inputs Make the Outputs: How Rules of Origin Really Do Rule
Download Today!
From the July 2019 Logistics Management Magazine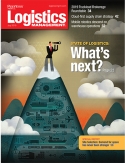 2019 State of Logistics: Third-party logistics (3PL) providers
2019 State of Logistics: Air cargo
View More From this Issue
Latest Webcast
Leveraging 3PLs for Future Shipper Gains
In this webcast, Evan Armstrong, president of Armstrong & Associates offers logistics and supply chain managers the industry's most comprehensive overview of the state of domestic and global third-party logistics arena.
Register Today!