2017 Alliance Awards: Recognizing outstanding supply chain partnerships
In an era where effective supply chain collaboration is both highly valued and elusive, Logistics Management and SMC³ shine the spotlight on some of the nation's best examples in its annual awards ceremony.

Logistics in the News
Logisticians, carriers fret over U.S. economy's future
U.S.-bound shipments trend down in June, reports Panjiva
Rules of Origin Really Do Rule
U.S. rail carload and intermodal volumes dip for week ending July 6, says AAR
A. Duie Pyle opens up Maine-based integrated logistics center
More Logistics News
Logistics Resource
Rules of Origin Really Do Rule
Inputs Make the Outputs: How Rules of Origin Really Do Rule
All Resources
By
LM Staff
·
October 16, 2017
The often-quoted phrase "no man is an island" is actually a major understatement when it comes to supply chain management.
In fact, as the orchestrators of extremely complex, interconnected webs of manufacturers, distributors, retailers and transportation providers, modern-day supply chain and logistics professionals rely heavily on all the links of the chain to deliver products from the raw material stage right through to their customers' doorsteps. And as any seasoned supply chain practitioner will tell you, the higher the level of collaboration, the better the overall results.
Each year, Logistics Management and present The Alliance Awards, an annual program designed to recognize how shippers and their service providers work together to overcome challenges to critical components of their unique supply chains. Winners are selected based on their ability to effectively solve challenges through innovative, measurable means, with qualified entries comprising a collaborative effort of three or more logistics and transportation service partners.
Presented during the recent SMC³ Jump Start conference (Jan. 23-27, Atlanta), The Alliance Awards is the only program in the industry to celebrate supply chain collaboration at the highest level. A panel of supply chain experts judged the entrants on how their collaboration has worked to produce meaningful outcomes, achieve results and enhance the supply chain, among other metrics.
"This year's crop of Alliance Award winners showcases an exceptional dedication to collaboration and innovation," says , SMC³ president and CEO. "It's encouraging to see the vast range of this year's award winners. We have representation from the ports, railroads, major trucking companies and large shippers, making the Alliance Award an honor that represents the complete shipment lifecycle, no matter the mode of transportation."
According to Michael Levans, editorial director of Logistics Management, the Alliance Awards align perfectly with the publication's overarching editorial message. "We tend to hear theoretical explanations revolving around the benefits of supply collaboration at conferences, but that's just talk," he says. "The Alliance Awards allow us the examine what collaboration looks like and acts like in the real world, and these stories will inspire other organizations to take the same path."
Here's a peek inside the four supply chain collaboration success stories that took home the 2017 Alliance Awards:
---
Glanbia: Pure collaboration in action
As a non-asset based logistics services provider that offers manufacturers, retailers, chemical, and consumer packaged goods a blend of logistics technology and transportation management services, , understands the value of good supply chain collaboration. Selected as 's third-party logistics provider (3PL) in 2014, Transplace was enlisted to help the shipper reduce its transportation costs.
As the partnership matured, determined that Glanbia's claims ratios were greater than the industry average, offering a starting point to help reduce the shipper's overall transportation costs. To help reduce the claims ratio, Transplace implemented the TransMATCH program, thus creating multi-stop shipments within Glanbia's network, as well as offering opportunities outside of the shipper's network to achieve the benefits of multi-stop truckloads. Transplace and Glanbia then selected Best Solution as the carrier that would support the network.
Glanbia's overall supply chain goals included reducing costs for shipments in the 5,000 lbs. to 30,000 lbs. range, as well as those that require 12 feet to 30 feet of truck space. The shipper also wanted to reduce its claims ratio, minimize handling and exposure to outside risks for its food products, speed up transit times and improve on-time percentages to consignees.
According to , Transplace's strategic carrier manager, achieving those goals required a high degree of collaboration among the 3PL, the shipper, and the carrier. He says that the initial short-term benefits of the program included the small-scale implementation's "immediate success" and improved visibility across shipments with all parties collaborating and consolidating efforts within Glanbia's network.
"As this program progresses," says Lowery, "more of Glanbia's shipments will be included within the project, thus leading to greater improvements."
---
SalonCentric: Saving money, time and the environment

Headquartered in St. Petersburg, Fla., and operating in 48 states, operates more than 565 stores nationwide and distributes professional salon brands like L'Oreal Professional, Redken and Matrix. Challenged by the fact that none of its customers have docks or delivery areas—and wanting to increase its cutomers' order windows while also decreasing its own carbon footprint—Salon Centric worked with carriers and to come up with a better transportation strategy.
For example, SalonCentric's McCalla, Ala., DC services approximately 110 wholesale stores in the Southeastern U.S. These stores receive weekly shipments averaging two pallets with 79 pieces weighing about 375 pounds. Half of the shipments are made in reusable plastic totes; and since the SalonCentric stores don't have receiving docks, the deliveries require breakdown and inside delivery to a backroom or classroom area. In the meantime, empty totes from the previous week's delivery had to be removed at the time of delivery as well.
Working together, the trio was able to not only effectively address these issues, but it also helped SalonCentric save time and money while lessening its impact on the environment. By using an average of 40 reusable totes per store, for example, SalonCentric has eliminated corrugate that may otherwise end up in landfills. In fact, Averitt and Pitt Ohio have enabled SalonCentric to keep nearly 325 tons of corrugate out of landfills.
According to director of distribution operations for SalonCentric, the shipper along with its partners continue to develop ways to save money and improve service to their customers. The next step is to develop a pool distribution solution from Omaha to Oklahoma to service the SalonCentric stores in that region.
---
KMMG: Streamlining the auto supply chain
When logistics group went in search of alternate paths for auto part imports destined for the plant, it knew it was facing some tough challenges.
For starters, it needed consistent truck capacity for the specific and timely operational needs of the Kia plant in West Point, Ga., where its just-in-time (JIT) operation handles both manufacturing and assembly. It also wanted availability of containers closer to the site.
Previously, KMMG was forced to go to Atlanta or Savannah to find chassis. Enter Cordele Intermodal Services (CIS), which offered overnight rail access close to the plant direct from the Port of Savannah. By using this option, the plant would gain access to more capacity and need fewer trucks to move the same number of containers. Empty containers could then be returned to the Savannah detention dock.
Working with CIS, , and 3PL partner Glovis American/Glovis Korea, KMMG has been able to get the extra capacity it needed while also realizing cost savings related to per diem equipment charges, direct transportation costs and drayage costs. The shipper saw immediate savings as it funneled more volume through CIS, while at the same time reducing truck miles, guaranteeing capacity, and more effectively aligning with its steamship line partners by matching back empty containers.
---
BMW: Driving collaboration inland and to the world
Inland Port Greer opened in October 2013, extending the Port of Charleston's reach 212 miles inland to Greer, S.C., and providing shippers with access to more than 95 million consumers within a one-day drive. The relatively new port boosts efficiency for international freight movements from the and is expected to create additional economic investment in upstate South Carolina, where , Michelin and other international manufacturers operate.
According to South Carolina Ports, BMW's significant volume commitment—in terms of both exports and imports—provided the necessary freight to launch the Port Greer project with a "reasonable chance of success." Norfolk Southern serves Inland Port Greer through its main rail line, and the facility is positioned along the Interstate 85 corridor between Charlotte and Atlanta, where the transportation provider operates additional rail yards.
Although BMW remains the largest single user of the inland port, more than 150 other exporters and importers have discovered the benefits of Inland Port Greer and regularly use the facility. In fact, Norfolk Southern handled 75,000 rail moves in 2015 alone at the facility. Also, rail service maximizes tonnage moved per gallon of fuel for importers and exporters, helping them save costs and lower their carbon footprint.
Last year, South Carolina Ports Authority exported the two-millionth BMW manufactured in South Carolina, a milestone celebration of the Port's longstanding partnership with the nation's top vehicle exporter by value.
"SC Ports Authority has a strong history with BMW Manufacturing, and their operations are a tremendous asset to our port and region," said , SCPA president and CEO. "We commend a talented, committed workforce at BMW on this achievement and celebrate their continued trust in us to deliver South Carolina-made BMWs to the world."
---
January 19, 2018
Subscribe to Logistics Management Magazine!
Subscribe today. It's FREE!
Get timely insider information that you can use to better manage your entire logistics operation.


Latest Whitepaper
Rules of Origin Really Do Rule
Inputs Make the Outputs: How Rules of Origin Really Do Rule
Download Today!
From the July 2019 Logistics Management Magazine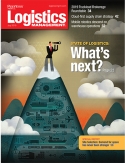 2019 State of Logistics: Third-party logistics (3PL) providers
2019 State of Logistics: Air cargo
View More From this Issue
Latest Webcast
Leveraging 3PLs for Future Shipper Gains
In this webcast, Evan Armstrong, president of Armstrong & Associates offers logistics and supply chain managers the industry's most comprehensive overview of the state of domestic and global third-party logistics arena.
Register Today!