2016 Air Cargo Roundtable: New Layer of Complexity Clouds the Picture
In an effort to help shippers better manage the skies, our panel of air cargo experts examines the global economy, fuel costs, ongoing security and regulatory measures as well as the advent of new airborne cargo options.

Transportation in the News
U.S. rail carload and intermodal volumes dip for week ending July 6, says AAR
A. Duie Pyle opens up Maine-based integrated logistics center
Truckload and intermodal pricing see gains in June, notes Cass and Broughton
Driver turnover rates head in opposite directions, says ATA
Cass Freight Index Report points to ongoing freight declines
More Transportation News
Transportation Resource
5 Levels of Autonomous Dispatch and Routing
Download this paper for an overview of Autonomous Dispatch and Routing, and learn how increasing levels of automation support and scale dispatching capabilities and create additional business opportunities.
All Resources
By
Patrick Burnson, Executive Editor
·
April 1, 2016
Logistics Management: Globalization has been staggered by a series of damaging events this past year. What will it take to reverse this trend?
David Ross: We believe globalization continues, but that its rate of growth in excess of global economic growth is minimal, if it exists at all anymore. Global trade will recover, as economies around the world recover.  
Doug Brittin: As we have seen in the past year, seemingly unrelated issues end up having a direct effect. Formerly transparent borders are becoming increasingly visible as a choke point for commerce. This became evident when we witnessed the backlog of trucks carrying both air cargo and surface freight at the channel crossing points in Europe last year.
Brandon Fried: Worldwide political and economic turmoil seem to be ever present today, and the Airforwarders Association does not see this changing anytime soon. But our community is made up of problem solvers, so we will adjust and get through this.
LM: When the world economy does recover, will the airline industry be prepared to take on new business?
Fried: Thanks to industry consolidation and the benefit of lower fuel prices, major airlines, especially in the United States, are experiencing extraordinary profitability. Many are ordering newer, more efficient aircraft and phasing out the older equipment. International carriers are not only acquiring the highly successful Boeing 777, but new versions of the Airbus A330 and the new, freight friendly Airbus A350 and Boeing 787 are entering the market.
Brittin: Indeed, the newer aircraft in the passenger segment provide a great deal of flexibility in cargo routing options, and as more of them enter service, we will continue to see that evolve. Freighter solutions will also evolve to serve many of the newer markets in lesser-developed areas, such as within India and South America.
Ross: I agree with Doug and Brandon. Freight capacity is growing faster than freight demand due to the strength in passenger traffic, so the capacity should be available to handle a rebound in cargo volumes. In the January IATA numbers, for example, we saw capacity rise 7% year-to-date, whereas demand increased only 2.7%. And last year, the industry added more capacity (+6.2%) than cargo volumes grew (+2.2%). It will evolve…as it always does.
LM: So, will the evolution of the "Uber-ization" of the freight transport industry have a direct impact on air cargo operations and strategies?
Brittin: As a society, we all have become more accustomed to "click and receive" without a broader understanding of what lies beneath. In most domestic markets, this type of service is relatively easy to achieve. But in global markets, the "one-click" solution is much more complex, with customer and other regulatory requirements entering into the mix.
Ross: Agreed. We should recognize that picking a person up and taking them cross-town is a whole different ballgame than picking up a 750-pound pallet of airfreight and moving it from New York to Frankfurt. Technology, though, should continue to improve and play a role in helping shippers and forwarders move freight more efficiently, we just don't see airfreight being moved via an app on a personal mobile phone in the near future.
Fried: These "Uber" type platforms are bound to have a direct impact on first time or casual shippers. However, the relationship between freight forwarder and customer continues to emphasize interactive communication because not all shipments are alike.
LM: Where do drones figure into this picture?
Fried: While we're in the early stages of drone development, the future appears promising, but we are still far from reliable and practical implementation.
Currently, smaller devices are being tested to transport five pounds or so over compromised road systems or in remote regions with an eye on shipping life-saving drugs during emergencies. Governments are seriously exploring the relationship between the air traffic control system and drones that can interfere and possibly cause a significant safety risk.
Ross: Our view on drones is that they are still in the development stage and represent opportunities primarily to help humanitarian efforts in developing countries. They may help with parcels at some point on the margin, but we do not see them affecting the air cargo industry much, if at all. 
Brittin: And then there's the question of where drones fit into the supply chain, and how they will be controlled and regulated. Certainly they can provide a solution for situations such as life-threatening shipments into remote areas. Higher level airspace is—or will be—regulated in most areas, so they will be limited to lower altitudes for operations.
LM: What are the major security concerns for airline and airport authorities? 
Ross: Security concerns are ever-present in a world where terrorist activity grabs the headlines all too often, and it will be up to each airline and airport to have appropriate procedures in place to prevent dangerous and illicit cargo from boarding passenger planes as well as freighters. 
Brittin: The potential threat to aviation by those with malicious intent still remains at the forefront. The goods actually transported—and therefore the potential threat to commerce, other infrastructure, or recipients of the cargo—remains, as it should, in the realm of customs regulation. We need to continue to work with aviation security regulators to ensure that the security measures to protect the former are developed in a risk-based, collaborative manner so as not to have the unintended effect of disrupting the flow of air commerce.
Fried: While freight forwarders are not employees of airlines or airports, we tend to be woven into the fabric of both as users of the air system. Freight screening is always a concern, but overall, we are continuously watchful for knee-jerk, senseless regulations that add no security value and hamper the flow of air commerce.
LM: That brings up a related question: What about new regulatory issues? Anything lurking in this realm to be concerned about?
Fried: Certainly one of the more significant regulatory initiatives is a move towards submission of advanced data before the loading of the aircraft for security targeting purposes. In the United States, we look forward to a rulemaking later this year on the Air Cargo Advanced Screening program that evaluates House airway bill elements before departure so that, if needed, additional screening measures can be applied to the shipment.
Brittin: While aviation security remains a primary concern, we're seeing more collaboration between customs and Aviation Security Training Centers [AVSEC] regulators, most notably in the area of Pre-Loading Advance Cargo Information (PLACI) systems. This is a very complex program in its own right in order to effectively coordinate information flow through multiple parties, channels and regimes—not to mention the coordination of the appropriate security processes as shipments transit multiple regulatory regimes. We must be cautions on this approach, and not try to attempt to wrap up too much into the "bundle."
LM: National trade and defense experts are now taking massive cargo air ships seriously. What challenges and opportunities does this pose for the airliner industry?
Ross: We don't believe bigger ships will take share out of the air. Costs are already significantly lower for ocean freight than airfreight, so whether it's an 85% savings or 95% savings, if transit times allow it, most freight that can go ocean is going ocean. On the other side, if these ships clog ports and cause delays, that could lead to freight moving off of ships and into planes, some temporarily and maybe some permanently. 
Fried: The biggest challenge to the airlines will most likely be cheaper costs, higher capacity and the convenience of not depending upon an airport necessarily to load and unload cargo. On the other hand, these devices are likely to be slower, and we should not discount the possibility of conventional carriers taking them seriously by acquiring a few themselves. Perhaps the ocean freight shipping industry may see the biggest challenge should be taking the development of these cargo airships seriously.
LM: Finally, do you see any other potential "game changers" like sea/air formulas coming into play?
Fried: We have seen various combinations of maritime freight transport mixed with air cargo delivery to cut a few days and a few dollars from the cost of traditional expedited freight shipping. This creative approach is likely to continue, as airships transport cargo and find ways to traverse most of the ocean.
Brittin: One of the biggest game changers for our industry is information. We need to openly embrace new technologies and concepts in information sharing in order to remain effective and competitive. But there is also a risk associated with this, which is cyber security. Interlinking proprietary systems can lead to exposure and create opportunities for those with malicious intent to do great harm to parts of our industry. Awareness, as well as training, is much needed to keep us secure in this area.
Ross: I'll end this discussion on a contrarian note. Multi-modal options—whether air/sea, truck/rail, or other—can be the most cost-effective solutions if managed properly. However, we don't see any "game changer" here for the air cargo industry. And that's okay: The industry is dynamic enough without making any more massive complications.
May 20, 2016
About the Author
Patrick Burnson, Executive Editor Patrick Burnson is executive editor for
Logistics Management
and
Supply Chain Management Review
magazines and web sites. Patrick is a widely-published writer and editor who has spent most of his career covering international trade, global logistics, and supply chain management. He lives and works in San Francisco, providing readers with a Pacific Rim perspective on industry trends and forecasts. You can reach him directly at
Subscribe to Logistics Management Magazine!
Subscribe today. It's FREE!
Get timely insider information that you can use to better manage your entire logistics operation.


Latest Whitepaper

Finding the Right Fit for New Technologies and Automation in your Warehouse/DC
In this white paper, Canon Solutions explores the challenges companies face when automating, explain why there's no need to rip-and-replace existing systems
Download Today!
From the July 2019 Logistics Management Magazine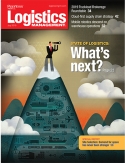 2019 State of Logistics: Third-party logistics (3PL) providers
2019 State of Logistics: Air cargo
View More From this Issue
Latest Webcast
Leveraging 3PLs for Future Shipper Gains
In this webcast, Evan Armstrong, president of Armstrong & Associates offers logistics and supply chain managers the industry's most comprehensive overview of the state of domestic and global third-party logistics arena.
Register Today!