2015 State of Trucking: Carriers gain the upper hand
While there's adequate capacity in what's viewed as a less chaotic market than last year, carriers have regained a position of strength as the supply/demand equation rests comfortably in their favor. As a result, truckers are seeking "shippers of choice" as looming capacity worries continue to mount.

John D. Schulz
· August 1, 2015
Ask any top trucking analyst or carrier executive and they'll tell you that the market at mid-year is viewed as good, but not great—and certainly not quite near the volume levels from the boom times just a year ago. They'll also agree that this state of the industry represents both good news and bad news for shippers as they approach peak season.
The good news is that there's still adequate trucking capacity in what's viewed as a less chaotic market than last year when volatile prices in the spot market, rail service failures, and a pending West Coast dock strike combined to wreaked havoc with shippers' transport budgets and plans.
The bad news is that it's still a "carriers' market," where trucking companies have significant leverage in choosing which "shippers of choice" they decide to do business with—and to whom they devote sufficient asset capacity.
"Demand is very good except in a few niches like steel hauling and support hauling for the fracking business," says John Larkin, veteran trucking analyst from Stiefel. "It's just not as spectacular as it was in 2014." Going forward, he's predicting an "acute capacity shortage" due to the deteriorating driver demographics and the onslaught of productivity sapping regulations—but not quite yet.
Larkin is forcasting "the mother of all capacity shortages" as early as 2016 or as late as 2019, depending on the rate of economic growth and the final timetable for such federal safety-oriented trucking regulations as speed governors, electronic log books, and tougher entry-level driver training requirements.
But for now at least, top carrier officials say that there's adequate capacity in the market place—even if shippers no longer have the pricing leverage they once enjoyed.
"Demand is not as robust as last year when we were coming off a harsh winter and there was pent-up demand and other factors driving a big
push on freight networks," says Joe Dagnese, president of Con-way Freight. "We're seeing some softness in volumes, but it's about what we expected—and capacity is still being utilized."
According to John White, chief marketing officer for US Xpress, the nation's seventh-largest truckload (TL) carrier: "Capacity will continue to remain challenged as fleets struggle with myriad issues surrounding regulation, equipment, costs, and driver supply."
Mark Rourke, president of transportation for Schneider, the nation's second-largest TL carrier, agrees with White. "My assessment is that it's solid, it's busy, but the market doesn't have the chaos factors we had last year with rails and ports. It's a much more stable market."
Over the next few pages we'll take a look at the key factors that are driving the current trucking market and take a deeper dive into what's affecting capacity and rates in an effort to help shippers guide their planning for the next six months.
Becoming a "shipper of choice"
While the market is solid and capacity is tight, carriers are becoming increasingly choosy in deciding with which shippers they'd like to do more business. This is, of course, leading to a push for trucking customers to become a "shipper of choice" for carriers.
Simply put, a "shipper of choice" is one that a carrier will fight to keep and provide the best services. By providing freight that's easily handled with few delays, these prime shippers can get the best discounts as well as guaranteed capacity during peak periods. In order to reach this plateau, shippers need to constantly be aware of their carriers' needs from early and flexible planning down to the dock level where drivers can be treated with respect and courtesy.
Schneider's Rourke and other carrier officials say that they're constantly emphasizing these characteristics to their customers—and it's resonating.
"One of the things shippers need to do is make themselves as attractive as possible to carriers," Rourke adds. "It's an easy topic to discuss. Shippers have been giving carriers scorecards on performance metrics for years. Now, we're doing performance feedback in a respective way back to shippers. It's almost a given nowadays."
Carriers say this is all part of their strategy to develop longer-term relations with shippers, rather than transactional, tactical ones. Shippers are being urged to align their long-term carrier strategies through multi-year agreements and commit to long-term relationships.
At the end of the day, what shippers want is cost certainty, service commitments, the ability to increase capacity when required, and a focus on a proactive commitment with their carriers. In return for such multi-year commitments, carriers are getting revenue certainty in a notoriously cyclical industry. Carriers are also receiving volume commitments, exclusive new opportunities, and certainty in their asset planning.
Some carriers are saying that shippers are buying into this "shipper of choice" strategy by agreeing to contracts as long as three years to five years, with shared savings coming from productivity gains through continuous improvement programs. And it's hard to argue against this level of collaboration becoming a vital element of logistics management over the next few years. According to the American Trucking Associations' (ATA) projections, U.S. freight demand will double by 2025.
"With these projections, both less-than-truckload and truckload carriers will continue to look at freight profiles of their customers and make decisions based on allocating capacity according to what best fits their networks profitably," says Con-way's Dagnese.
Shippers who are able to collaborate effectively with their carriers and make their freight more attractive and efficient to handle are those who will get the capacity, adds Dagnese. "Wait times, managing hours-of-service, packaging to minimize potential damage, driver-friendly docks—these are all areas where shippers and carriers can find mutual benefit."
Danny Crooks, vice president of corporate transportation for Averitt Express, says that the most important way shippers can help TL carriers is by providing "no-touch freight" so that drivers don't have to get involved in time-wasting loading and unloading. He also suggests shippers be more flexible with shipping and delivery times, developing drop-and-hook programs when possible, and providing driver amenities such as accessible bathrooms and lunch areas where they can take their breaks in peace.
"We want to avoid detention time, and I know shippers do too, Crooks adds. That's why being more flexible with pickup and delivery times is important. When drivers wait four to five hours while their trucks are loaded and unloaded, it drives up costs for everyone."
Regulatory overhang
The current push to make every minute of a truck driver's on-duty time productive is due to the federal government's ongoing push to enhance truck safety.
Today, truck drivers are being scrutinized harder than ever before with restraints on hours, tougher drug and alcohol testing, and the ongoing CSA (Compliance, Safety, Accountability) initiative that could invalidate as many as 150,000 drivers from the 3.5 million long-haul driver population.
And that's not all. According to Mike Regan, co-founder and president of Tranzact Technologies, a freight payment company that analyzes millions of freight bills annually, freight rates are poised to rise 15 percent to 20 percent or more in the next several years as the trucking industry's capacity will lag demand.
Regan calls the current trucking market a "modest reprieve" from the capacity crunch that will "jolt shippers' freight rates in the next few years." He says that while trucking supply and demand tightness has softened somewhat over the short-term, the long-term outlook calls for extreme tightening over the coming two to five years.
"Over that time where is going to be a cascading effect of regulations that will increase truckers' costs," adds Regan. These include the push for greater truck mileage standards (which will add as much as $15,000 to the current $125,000 Class 8 truck), better pollution equipment, anti-rollover technology, and hair follicle testing for illicit drug use.
"The laundry list of regulations coming down the pipeline is staggering, and will make life very challenging for smaller carriers," says analyst Larkin. "They don't have the compliance infrastructure in place to cope with the onslaughts."
Drivers shortage not improving
Of course, carriers move nothing without drivers. And today the challenge of finding enough qualified, certified drivers for fleets is as hard as it's ever been.
Noel Perry, chief economist with freight analyst firm FTR Associates, says that the trucking industry is currently about 100,000 drivers short of full utilization of 3.5 million. But he adds that the industry is catching up fast to demand through increased driver pay and other inducements.
But it takes work. Perry says there's a roughly 3-to-1 ratio in effect for the industry. In other words, he says, "You have to hire, screen, and train three drivers before you get one who will stay with you," Werner Enterprises, parent of the fifth largest TL carrier, reported in April that the current driver availability market was "very challenging." The carrier cited several difficult market factors adding to the driver shortage, including the declining number of, and increased competition for, driver training school graduates; a gradually declining national unemployment rate; the aging truck driver demographics; and, as mentioned in the previous section, increased truck safety regulations.
To add more fuel to the fire, those drivers staying in the cab are getting older. According to the American Transportation Research Institute, in 1994 some 31 percent of drivers were 45 or older. Today, that figure is 56 percent.
Like many TL carriers, Werner has had to increase driver pay in order to attract and retain qualified drivers. Schneider gave a pay boost recently, but Rourke says that the company is still short of full capacity. In fact, one TL rival was recently offering a $25,000 signing bonus if a driver stayed with the company one year.
However, trucking remains a tough sell to younger people. "For the Millennial generation, they've grown up in this age of instant information at your fingertips," says Con-way's Dagnese. "The tools of the trade for today's young workforce are laptop computers, tablets, and smart phones.
As a result, traditional truck driving, manufacturing, and trade jobs have less appeal."
According to Dagnese, trucking must do better in a couple areas. "First, we need to start early with more awareness and education about opportunities and careers in our industry," he says, adding that truckers need to emphasize that technology is a key part of this industry. "Drivers are utilizing more technology today than ever, and we have to do a better job of communicating that growing sophistication."
The second area, says Dagnese, the industry must do a better job addressing is the quality of life, particularly with long-haul truck driving. Pay and benefits are important, but at the end of the day, drivers want more respect and acknowledgment of the rigors of the job and more home time.
Larkin adds that it's not just drivers that are in short supply. He sees a scant supply of well-schooled, mid- to upper-management level executives ready to take the reins for the next generation.
"In my view, there's a lack of management talent in the 40-year old to 50-year old age range," he says. "Few young people entered the industry 20 years or 30 years ago, and, as a result, few matured into industry leaders. That could be a real issue as today's industry leaders seek retirement."
Bottom line for trucking
Today, the trucking industry is facing much tighter capacity due to demographics, lack of attractiveness to younger people, higher costs, and a fierce regulatory environment in Washington.
In this carriers' market, shippers can expect 3-percent to 5-percent rate increases that merely will equal the rising costs facing most carrier operations. But those increases today might appear modest as a regulatory noose tightens on trucking, exacerbating the truck driver shortage, raising costs of equipment, and driving up rates relentlessly.
According to Larkin, the bottom line is that savvy shippers need to use every tool in their arsenal to sharpen their operations and make themselves more cost efficient to the carrier partners. "The idea of becoming a 'shipper of choice' is becoming a necessity."
About the Author
John D. Schulz John D. Schulz has been a transportation journalist for more than 20 years, specializing in the trucking industry. John is on a first-name basis with scores of top-level trucking executives who are able to give shippers their latest insights on the industry on a regular basis.
Subscribe to Logistics Management Magazine!
Subscribe today. It's FREE!
Get timely insider information that you can use to better manage your entire logistics operation.


Latest Whitepaper
Rules of Origin Really Do Rule
Inputs Make the Outputs: How Rules of Origin Really Do Rule
Download Today!
From the July 2019 Logistics Management Magazine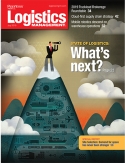 2019 State of Logistics: Third-party logistics (3PL) providers
2019 State of Logistics: Air cargo
View More From this Issue
Latest Webcast
Leveraging 3PLs for Future Shipper Gains
In this webcast, Evan Armstrong, president of Armstrong & Associates offers logistics and supply chain managers the industry's most comprehensive overview of the state of domestic and global third-party logistics arena.
Register Today!