2015 Rail/Intermodal Roundtable: Big investment is paying off
Faced with service issues and declining performance metrics, rail and intermodal providers are keeping investment levels at record highs as they continue to work through the current challenges to get back to pre-recession performance levels.

Transportation in the News
Port of Los Angeles and Port of Long Beach each set volume records in October
E-Fulfillment Study: Actions to Address Customer-Driven Complexity
Cass Freight Index points to ongoing strength in freight economy
Truckload and intermodal rates see strong gains in October, according to Cass and Broughton report
Emerge receives $20 million in seed money from Greycroft Partners
More Transportation News
Transportation Resource
E-Fulfillment Study: Actions to Address Customer-Driven Complexity
Managing order fulfillment operations in the age of e-commerce means coping with all aspects of "more" for the customer.
All Resources
By
Jeff Berman, Group News Editor
·
June 1, 2015
On the nation's rails—as in life—nothing is ever perfect. That's an accurate way to sum up the environment in the rail and intermodal sectors over the last year.
During that time, challenges such as service performance issues—that appear to be firmly on the mend—were joined by well-document missteps of transportation of crude oil by rail (CBR), which remains under scrutiny due to a number of accidents in recent years. Other obstacles include an uneven economy, which has weighed on carload and intermodal volumes, and the fact that shippers are still clamoring for regulatory changes in order to provide what they say is needed rate relief.
However, not everything is murky, especially when you consider the massive capital expenditures railroads annually allocate to improve their own infrastructure and equipment. According to the Association of American Railroads, the U.S. freight railroads are set to spend $29 billion on the country's rail network in 2015 and hire roughly 15,000 new employees.
Future growth is the major driver for these investments at a time when volumes continue to lag pre-recession levels for both carload and intermodal—although that gap is clearly narrowing. In the meantime, carriers say that these substantial investments continue to go towards shipper objectives for things like improved transit times and increased efficiency.
To help put the current state of the national's rail and intermodal network into better perspective, Logistics Management is joined by three of the nation's foremost experts in the market to form our 2015 Rail/Intermodal Roundtable. Our panelists include Larry Gross, senior partner at freight transportation analyst firm FTR; Tony Hatch, rail analyst and principal of ABH Consulting; and Bill Rennicke, partner at Oliver Wyman, a management consultancy.
Logistics Management (LM): How would you define the current state of the railroad and intermodal markets?
Bill Rennicke: The intermodal business is flat to marginally down so far this year largely due to the port disruptions on the West Coast. At the end of last month, volumes shot back up. I would expect to see continuing growth by a percent or two above GDP for intermodal during the year. Domestic traffic should grow faster than GDP driven in part by a truck driver shortage, while international growth will be a bit below GDP, but possibly accelerating toward the end of the year as the strong dollar drives up consumer imports. But I think it's clear that intermodal will hit record volumes again this year.
Larry Gross: However, the rail carload market is on the sluggish side right now, with the industrial economy showing signs of weakness and key commodities such as coal, crude oil, and frack sand declining. Intermodal is in the process of shaking off the disruption stemming from the West Coast port situation, as Bill mentioned, and good growth can be expected near-term as the backlog is worked down. But later in the year, intermodal may face some challenges due to currently adequate truck capacity, particularly if service does not improve.
Tony Hatch: My take on rail carload markets is slowing carload volumes—actually quite poor in April—due to some secular issues (coal), cyclical (CBR), and episodic and unpredictable ones like grain. The general prevailing theme in the financial markets is that rails are slowing down. Intermodal, on the other hand, is seeing the unwinding of the West Coast port issues and with improving rail service after all of the capex, and things should actually improve from here. To me, that's the silver lining and perhaps even the biggest story—that rail spend improves capacity and service and is rewarded in the most competitive market of all versus the short-term carload story.
LM: Year-to-date carload volumes show slight growth, with volumes not quite caught up to pre-recession levels. Overall, are things moving in the right direction for carloads?
Gross: It appears that carload volume growth has stalled out. Volume is slightly down annually, driven most importantly by lower coal shipments. In recent years, strong growth in CBR and frack sand have helped cushion the blow of weakening coal, but dramatically lower prices for crude oil have changed that picture.
Both crude oil and frack sand volumes have been declining sequentially since November, and, if current trends continue, will fall below prior year volumes. Carload currently lacks other growth stars due in part to sluggish performance in the industrial economy. The strong dollar is hurting exports and our trading partners are not growing as fast as we are. Meanwhile, we continue to wait for a true robust recovery to begin in housing, so our view of the carload situation is quite cautious.
Hatch: Correct, things are not moving in the right direction. The bigger near-term concern is the direction of rail volumes. Some of it marches to its own drummer, such as coal and anything related to the CBR. However, there's some cyclical concern too, from a macro level.
Rennicke: Keep in mind that while carloadings remain just below 2006 record levels, revenue ton-miles have actually set new records above 2006 levels. Because of competition for resources, Class I carriers often don't focus on the carload business with the same vigor that they place on intermodal and unit-train traffic, so carload traffic may not have grown as fast as it could. Carload traffic is one of the two untapped growth opportunities for the rail industry, with the other being domestic intermodal, particularly in markets that require two carrier hauls like Mexico, the Gulf, and the Midwest to the East Coast.
LM: How do you view the current state of intermodal? Volumes are down slightly year to date, but it stands to reason domestic intermodal is doing well—even with the issues created by the recent West Coast ports labor deal.
Hatch: Intermodal looks good from a recovery level, with the resolution of the West Coast labor issues; a cyclical level, due to consumer spending; and it looks good due to the impact of the cheaper dollar. While rail earnings were, on the whole, disappointing, those of the rails' bimodal partners were terrific—which should lead to future increases in domestic intermodal productivity, price, and ROI.
Rennicke: Overall, rail market share of international intermodal is high, and growth will track GDP. Some shifting of traffic off the West Coast to Canada and to the East Coast may occur, but it will be at the margin as the Seattle/Portland corridor is growing quickly. California will remain a huge consumer market that will still anchor vessel rotations into those ports. However, traffic requiring a two-railroad haul from the Western ports to Eastern U.S. markets may increasingly shift to East Coast ports.
Gross: I'll just add that intermodal volumes were definitely held back by the situation on the West Coast. That backlogged volume is moving in earnest, and near-record intermodal volumes are being recorded each week. Over half of all intermodal volume is related to movement of international cargo, and the outlook is cloudy. Imports should be boosted by the strong dollar and low fuel prices putting more money in consumers' pockets. Diversion from clogged West Coast ports will not be helpful; but, overall, we think things will be positive for the rest of the year.
LM: Where does railroad service stand now compared to a year ago, when rails were dealing with the aftereffects of a very harsh winter?
Hatch: Service is much better than last year and even last quarter. It isn't back to 2013 levels, but it is trending that way. All of the big spending is paying off in terms of increased crews, power, and network capacity. This is so much more important for financial, market, and political reasons than near-term volume worries.
Gross: I have a bit of a different take. After significantly recovering late last year, service deteriorated once again last winter, and, as of the middle of March, key network service statistics for both rail carload and intermodal were back down to the levels seen during last summer.
This is disappointing and puzzling given that overall carload demand is down versus last year and significant crew and locomotive resources have been added since then. During the latter half of March we began to see some improvement, but forward progress has been very slow.
Rennicke: I'll add that some congestion is likely to remain as construction projects continue this year and actually constrict capacity until they are fully implemented. Keep in mind that PTC implementation will increase this year and next, and that will consume capacity significantly until the system is fully implemented and working smoothly. Service levels will continue to improve through 2015, but will not fully return to 2013 levels until 2016—unless the PTC deadline is extended or the economy goes soft.
LM: What can shippers expect in terms of service over the course of the next year?
Gross: I am still somewhat optimistic that things will improve, if only because carload volume is down. This fact should give the rails some breathing room to recover. The biggest vulnerability is the locomotive supply. With Caterpillar essentially out of the freight locomotive market until late 2016 or 2017 due to the lack of a viable Tier 4 design, we're down to one builder—General Electric—and they are essentially sold out. As a consequence, the rails are using every piece of motive power they can get their hands on—new or old.
Rennicke: I agree with Larry. Shippers should expect continuing improving service levels in 2015, but should not expect service to return to 2013 levels for another year until current capacity expansion projects are finished and PTC implementation is farther along or postponed. However, truck driver shortages will keep demand for rail service strong even though unit train growth will flatten out this year.
LM: How are market conditions affecting capacity and rates for rail and intermodal?
Rennicke: Car orders for intermodal cars are strong and demand is expected to stay strong for intermodal service. Spot shortages of terminal capacity and box supply may hamper demand. Last year we actually saw growth in trailer volumes possibly due to shortages of domestic containers. But trailer capacity is somewhat constrained by supply of flat cars that can accommodate trailers as new intermodal cars are double-stack and new terminal capacity is largely designed around containers.
Hatch: The other silver lining so far has been rail pricing power—after all they have to pay that huge capex bill. And the bimodal results from intermodal marketing companies like Hub Group and JB Hunt suggest that the one relatively weak spot in rail pricing over the cycle—domestic intermodal—will be adding rate growth to its above-GDP volume growth.
Gross: Through the first 16 weeks of 2015, rail carloads originated, excluding intermodal, were 6.9 percent lower than during the same period in 2008, so overall capacity should be fine. There has been some issue on where the freight is moving because of changes in the railroads' mix of commodities.
Regarding intermodal, additions of new domestic containers are being delayed pending resolution of the Department of Commerce anti-dumping action regarding units sourced from China. If upheld by the International Trade Commission, the ruling will more than double the cost of a new container from China. This may create some short-term tightness in the supply of domestic containers later in the year.
LM: Pricing and rates are an eternal "hot topic" in railroad and intermodal circles. That said, is pricing where it needs to be given that rails are on the hook for the lion's share of their capex—which continues to hit record levels?
Hatch: Domestic intermodal pricing is far from where it needs to be to generate an ROI commensurate with the massive capex driving that network build-out. But as I see in their partners' numbers, that may be changing. Railroad pricing needs to continue to beat inflation overall.
Gross: The railroads have proven very adept and disciplined regarding pricing for rail carload traffic. I don't expect that situation to change, even if traffic growth slows or stalls. Improved revenue per car has been a key aspect of their success in lowering their operating ratios, and that trend will continue, subject to any changes in the regulatory regime. Intermodal pricing is mostly a product of what is happening on the highway. So, when truck rates go up, they raise the ceiling under which intermodal rates are set, permitting intermodal rates to rise.
Rennicke: So far, railroads have been able to fund increasing amounts of capital investment for terminal and line capacity expansion from strong rate levels. So, current rate increases and the pace of capex spending are in balance. There are other things the rail industry can do to further stabilize and improve operating performance, which will increase capacity with more limited and targeted application of capital.
This is not to say that rails should reduce capital spending, but they could get a far greater bang for their buck from the investments they make in capacity by creating greater operating stability and reliability.
LM: What is the state of regulatory affairs in terms of the most recent round of legislation calling for changes to the Surface Transportation Board (STB) that can be viewed as "shipper friendly"?
Rennicke: The current railroad business model is seeing increasing regulatory scrutiny, which to date has been lower in the U.S. compared to what has been happening in Canada. Shippers are increasingly under pressure from rising rates and capacity shortages from both truck and railroads, and this increase calls for regulatory intervention in the form of rate challenges and truck weight-limit increases—both of which will exacerbate the growing infrastructure crisis by restricting capital investment in rails and adding to the deterioration of the highway network.
Hatch: Thanks in part to the excellent work by the Association of American Railroads (AAR) and other groups, and in part to the big service recovery, I don't see much threat to the rail renaissance from the legislative arena—although one must always be vigilant on things like truck size and weight. During the service issue period (the winter of 2013-2014), one saw the perils of government interference up North, when the Canadians mandated their rails carry minimum levels of wheat or be heavily fined. That worked for wheat, but not for commodities like lumber, chemicals, and autos.
Gross: There are various changes that have been put on the table. Most notably, the AAR issued a cautious endorsement for the bi-partisan STB re-authorization bill. So, to the extent that anything can get through Congress these days, perhaps this bill will thread the needle. It includes some common sense improvements in the way the STB operates, including expanding it to five members from the current three and allowing members to actually have a conversation in private without a prior public hearing notice.
LM: How will the rail and intermodal markets look five years from now?
Hatch: Led by continued and continuous market share gains in intermodal, both domestic and international, rails will be even more important to the national and continental supply chain than they are today.
Rennicke: I agree, and remain optimistic that the industry will learn from the challenges of 2014 and make changes to their business model to more nimbly accommodate growth. Oliver Wyman believes that the rail industry can grow faster than the underlying GDP growth rate over the next five years if the industry focuses on improving operational reliability. Railroads remain the best mode for expanding transport infrastructure through private investment, while the expanding rail market share is a more environmentally and economically efficient choice for handling economic growth.
Gross: I'll add that rail carload traffic is a derived demand, and I don't think things will look very different in that arena five years from now. Low energy prices will spur additional economic activity and that should benefit the railroads. Coal will continue to decline, which is a source of concern given that it still accounts for about 30 percent of all rail carloads.
It remains unclear that new found markets such as CBR will be able to fill the gap. Intermodal will continue to grow provided that the railroads can get their service issues under control, while the anticipated truck capacity shortfall in coming years due to regulatory activity will provide intermodal with a major growth opportunity provided that the industry is operationally ready to exploit it. So intermodal could be larger five years from now than it is today, but I don't think it will look much different at that point.
June 15, 2016
About the Author
Jeff Berman, Group News Editor Jeff Berman is Group News Editor for
Logistics Management
,
Modern Materials Handling
, and
Supply Chain Management Review
. Jeff works and lives in Cape Elizabeth, Maine, where he covers all aspects of the supply chain, logistics, freight transportation, and materials handling sectors on a daily basis.
Contact Jeff Berman
Subscribe to Logistics Management Magazine!
Subscribe today. It's FREE!
Get timely insider information that you can use to better manage your entire logistics operation.


Latest Whitepaper
E-Fulfillment Study: Actions to Address Customer-Driven Complexity
Managing order fulfillment operations in the age of e-commerce means coping with all aspects of "more" for the customer.
Download Today!
From the November 2018 Logistics Management Magazine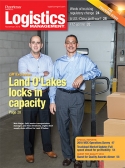 Land O'Lakes lock in Texas-based capacity
How will the tariff war with China affect U.S. container ports?
View More From this Issue
Latest Webcast
The Future of Multi-Carrier Shipping Systems (Beyond the Shipping Label)
How confident are you that the shipping solution you have in place today will meet emerging delivery and customer service trends over the next five years? In this webinar transportation technology expert Ken Fleming, COO of Logistyx Technologies, discusses the key trends shaping supply chain delivery today and how they're influencing shipping system requirements.
Register Today!