2012 Warehouse/DC Operations Survey: Mixed signals
A record response reveals that readership is divided in terms of investment: one side remains cautious, while the other is on the verge of making significant changes to their warehouse/DC operations. How have your operations emerged from the Great Recession?

Maida Napolitano
·
November 1, 2012
After years of slow economic progress, the results of Logistics Management's (LM) 2012 Warehouse and Distribution Center (DC) Operations Survey show that there appears to be two schools of thought emerging from the ashes: There are those companies that remain cautious, staying conventional with minimal plans for expansion; and there are those on the verge of making significant investments and changes to their distribution operations.
Designed to gauge activities and trends in warehousing and DCs, our annual survey offers a first-hand look into the state of today's DC and warehouse operations. In September, a survey questionnaire was sent via invitation to LM readers. The survey gleaned 805 qualified responses (a new record for this survey) from upper-level managers to CEOs—all personally involved in decisions regarding their company's warehouse and DC operations.
Most participating companies came from manufacturing (44 percent), followed by distributors (28 percent), third party providers (9 percent) and retailers (8 percent). An assortment of products handled in the DC was once again well-represented with food and grocery leading the pack at 11 percent, followed by industrial/chemical at 10 percent, and electronics and building materials, tied for third, at 8 percent each.
This year's findings revealed mixed signals coming from opposite ends of the spectrum. About 52 percent of respondents are adopting a more cautious approach, spending less than $250,000 for warehousing equipment and technology in 2012.
"That's a predominant statistic," says Norm Saenz, senior vice president and principal of TranSystems, a supply chain consulting firm and our partner for this survey. "It supports how tough economic times have controlled spending to less than $250,000 for a majority of respondents. That's only good for minor improvements to operations, such as racking or the purchase of a lift truck, versus opening a new facility or implementing new technologies."
However, Don Derewecki, senior management consultant also from TranSystems, prefers to focus on the other end of the spectrum: those 17 percent of respondents who are spending $1 million or more this year, and another 16 percent planning to spend that same amount next year.
"That's for significant projects—an indicator that companies are doing more than just replacing worn out equipment," says Derewecki. "These stronger companies have diligent managers who have probably been continuously shaving points off their operating costs over the past few years. By now all the low hanging fruit is gone, so they're starting to get more aggressive and finally looking to squeeze the trigger on investments in mechanization and automation."
Over the next few pages, we'll dig into the high-level findings of the 2012 Warehouse and Distribution Center (DC) Operations Survey to share more detail on how the warehousing and distribution landscape has changed over the past year. This year we've updated portions of the survey to capture emerging trends while continuing to track the critical measures of warehousing activities we've charted over the past six years. Let's see how your operations compare to what your peers are doing inside the four walls.
What's trending?
Despite the mixed signals, there's one clear conclusion that both Derewecki and Saenz derived from this year's survey: Corporate is making its presence felt inside the warehouse and DC.
"There's an increasing recognition of the importance of the supply chain and how much money is being spent on it," says Derewecki. "Corporate managers have become increasingly focused on the details that make the difference, even at the DC level."
According to Saenz, this fact is never more evident than in the number of respondents who say they're using their enterprise resource planning (ERP) system's warehouse management system (WMS) functionally in the DC (27%)—twice the number of respondents using best-of-breed WMS (13 percent). "Corporate does not want to play around with expensive WMS packages," speculates Saenz.
"They made a commitment to use an ERP system, so they want to use everything these systems can offer—even though it may not be the best thing for the warehouse."
Derewecki agrees, adding that the WMS being offered today by the big ERP players "isn't as bad for the warehouse as it used to be." He says that 10 years ago some of his clients were forced to use ERP at the DC level because corporate wanted everyone to integrate with the company's ERP system. "All of the functionalities that managers used to have with their stand-alone WMS just weren't there," says Derewecki. "In some cases, they had to switch back to more manual operations." But these days, he adds, developers have significantly improved the functionality of ERP's WMS packages.
"As more companies run their businesses with an ERP system, it's easier and less costly to simply use that ERP's WMS," adds Saenz. "I think this is a trend that's going to continue."
There's also a trend towards a more consolidated network. Since 2010, the percentage of respondents with three or fewer buildings has been steadily increasing, while the percentage with four or more buildings has been steadily decreasing. Saenz believes that it's all part of a continuing push by companies to do more with less.
"However, with fewer facilities, you may achieve savings in operating costs, but you may be potentially increasing your freight," Saenz cautions. "This is not a particularly good move with today's inflating gasoline prices."
Even more mixed signals surface from this year's findings. While some networks may be contracting to fewer facilities, about 60 percent of respondents are planning to do some sort of expansion this year. Twenty-six percent are increasing their number of SKUs, and 25 percent are increasing the number of employees.
Despite these plans for expansion, average inventory turns have not improved and remain steady at 8.2. Derewecki offers a possible explanation: "At many companies, in spite of the emphasis on inventory control and the improvement in information systems tools, the proliferation of SKUs has prevented the overall turn ratios from improving."
The multi-channel effect
For the first time, we decided to track how companies use market channels—or how they make product available to their customers.
Most of the respondents (84 percent) report servicing more than one channel: 67 percent report shipping to wholesalers; 57 percent to retailers; and 29 percent are e-commerce based, shipping products directly to customers.
"I would be most interested in tracking e-commerce penetration over the coming years," says Derewecki. "It seems that despite what industry our clients are in, if they are not using the Internet now, they have a plan to get into it." He notes that more consumers are now using brick-and-mortar stores merely as "showrooms" to see a particular model, confirm its looks and functions, but then head back home to compare costs among web retailers before ordering that model online.
How are multi-channel respondents fulfilling their orders? Forty percent are filling their orders themselves from one main DC, designating separate areas for retail or e-commerce or scheduling specific pick waves for certain channels.
"Almost 25 percent of respondents have already decided to put it in a separate DC," notes Saenz. "It would be interesting to see how these results change as each channel grows. I predict more separate DCs and the use of more third-party logistics providers."
2012 DC network profile
The profile of this year's distribution network remains mostly the same as the past few years.
Sixty percent of respondents operate less than 250,000 square feet of space in their distribution network, with most common clear heights of 20 to 29 feet. Derewecki predicts that, over time, the mix is going to shift towards taller, higher buildings. "Lift truck technology is making higher buildings very practical," he says. "Newer, double-deep reach trucks, for example, can lift to a height of over 36 feet."
Seventy percent of respondents report undertaking some kind of distribution network optimization and location studies, mostly on an "as-needed" basis. As a result of these studies, half of respondents (50 percent) report "moving inventory among warehouses" as it is the easiest and quickest option among all the other network improvement actions. For those adding DCs as a result of these studies, most cite "improved customer service" (70 percent) and "the penetration of new markets" (36 percent) as their top two drivers.
Tracking previous trends

Recycling continues to dominate sustainability efforts at 76 percent. This year however, slightly more respondents are "reusing shipping containers" and "using metal and/or plastic pallets."
Derewecki notes that he's seeing more plastic pallets in use at pharmaceutical manufacturing because of FDA requirements. "Wherever you have a requirement of a sterile or cleanroom environment, then that's one good way you can use reusable plastic pallets."
Fortunately, fewer respondents (only 15 percent versus last year's 28 percent) experienced catastrophic events this year compared to last year. Open-ended responses show many operations being hit by hurricanes and tornadoes; but to protect against these particular threats, survey takers have installed back-up generator and data retrieval systems, set plans in place to re-route demand to another DC, and have established multiple sources for parts and raw materials.
To reduce operating costs, "improving warehouse processes" (64 percent) and "improving inventory control" (61 percent) remains the top two actions preferred most by respondents. "It makes sense because both do not necessarily involve a high level of investment," says Derewecki. "However, the better operators have already done all the process improvements that they can do without making capital investments. They are at the next stage. To improve, they may need to invest in mechanization and automation."
November 12, 2012
About the Author
Maida Napolitano Maida Napolitano has worked as a Senior Engineer for various consulting companies specializing in supply chain, logistics, and physical distribution since 1990. She's is the principal author for the following publications:
Using Modeling to Solve Warehousing Problems
(WERC);
Making the Move to Cross Docking
(WERC);
The Time, Space & Cost Guide to Better Warehouse Design
(Distribution Group); and
Pick This! A Compendium of Piece-Pick Process Alternatives
(WERC). She has worked for clients in the food, health care, retail, chemical, manufacturing and cosmetics industries, primarily in the field of facility layout and planning, simulation, ergonomics, and statistic analysis. She holds BS and MS degrees in Industrial Engineering from the University of the Philippines and the New Jersey Institute of Technology, respectively. She can be reached at
Subscribe to Logistics Management Magazine!
Subscribe today. It's FREE!
Get timely insider information that you can use to better manage your entire logistics operation.


Latest Whitepaper

Finding the Right Fit for New Technologies and Automation in your Warehouse/DC
In this white paper, Canon Solutions explores the challenges companies face when automating, explain why there's no need to rip-and-replace existing systems
Download Today!
From the July 2019 Logistics Management Magazine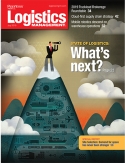 2019 State of Logistics: Third-party logistics (3PL) providers
2019 State of Logistics: Air cargo
View More From this Issue
Latest Webcast
Leveraging 3PLs for Future Shipper Gains
In this webcast, Evan Armstrong, president of Armstrong & Associates offers logistics and supply chain managers the industry's most comprehensive overview of the state of domestic and global third-party logistics arena.
Register Today!